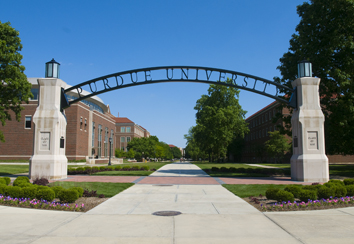 Purdue University officials are considering whether to endorse a tuition freeze for the fourth consecutive year and increase merit pay by 3.5 percent for employees at the West Lafayette campus, according to school president Mitch Daniels.
The Board of Trustees is expected to make a decision this week, and trustees also will discuss increasing entry-level wages to $10 an hour for full-time clerical and service staff, Daniels told the Journal and Courier of Lafayette.
Although the University Senate has questioned whether another tuition freeze is possible on top of the proposed pay raises, the budget proves it's a sustainable move, Daniels said.
"I think this budget reflects it," he said.
Under the tuition freeze at Purdue, which currently is on its second year, the estimated cost of attendance for the 2014-15 academic year is $10,002 for Indiana residents, $28,804 for out-of-state students and $30,804 for international students.
The board's finance committee approved the plan Thursday. The full Board of Trustees is expected to vote on it Friday before it goes to the Executive Committee for final approval on May 27. The board also will vote on the school's two-year budget at the meeting.
The proposed faculty and staff raises will cost Purdue about $20 million, according to Daniels.
Trustees at Indiana University approved a 2-percent increase in faculty pay last year, according to the school's website.
Please enable JavaScript to view this content.