An Indy office building is taking its "green" ethos beyond the now-common planted rooftop.
The roof of The Buick building at 13th and Meridian streets features two honey beehives, occupied by more than 20,000 bees apiece.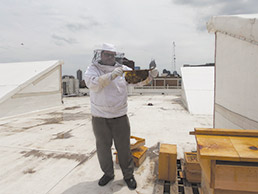 Jim Berndt hopes his urban bees help maintain biodiversity and stabilize bee populations. (Photo courtesy of August Mack Environmental)
They were installed this year by August Mack Environmental senior geologist Jim Berndt, with permission of building owner Shiel Sexton. August Mack, a consulting firm, is a tenant in the building.
Berndt, an avid beekeeper, wanted to help Indianapolis follow the lead of cities such as London and New York in supporting an urban bee population. The bees are eager to pollinate plants in parks, urban gardens and window boxes.
If the first two hives are a success, Berndt might add more next year.
"I like to think that my bees are playing some small part in maintaining our biodiversity and helping stabilize bee populations," Berndt said in a statement.
Check out the rest of IBJ's 2015 Innovation Issue.
Please enable JavaScript to view this content.