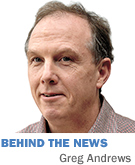 The media spectacle surrounding Ponzi schemer Tim Durham's trial and sentencing three years ago was something to behold. Media from two states converged on the federal courthouse and watched a jury convict him on all 12 felony counts and a judge sentence him to 50 years in prison.
The episode is no doubt a painful memory for Durham, one he has had plenty of time to ponder as an inmate at the McCreary U.S. Penitentiary in Pine Knot, Kentucky.
Now, Durham is set to make a return trip to the site of one of the most-watched white-collar trials in Indiana history. Judge Jane Magnus-Stinson has ordered him to appear June 26 for resentencing in the wake of the September dismissal of two counts by the U.S. Court of Appeals.
The appeals court threw out the two counts because prosecutors in those instances failed to enter key documents into the record. "It was clearly an oversight," the three-judge panel wrote, "but the mistake leaves a crucial gap in the evidence on those counts."
If prosecutors get their way, Durham will receive little or no benefit from the dismissals, even as he weathers the media glare and possible glares from fraud victims in the courtroom. In a statement, Acting U.S. Attorney Josh Minkler said "our position will be that [the dismissal] will have a negligible effect on the final sentence."

Durham
Durham's court-appointed attorney, Kenneth Riggins, isn't saying how large a reduction he will seek. "As close to zero as I can get him I think he would appreciate," Riggins said with a chuckle.
The way the original sentencing unfolded doesn't bode well for Durham.
Prosecutors had sought a 225-year sentence for the Indianapolis businessman, who was found guilty of looting Akron, Ohio-based Fair Finance Co. to prop up failing businesses, curry favor with friends, and support a lavish lifestyle. Fair's 5,200 investors—mom-and-pop Ohioans who bought unsecured certificates—lost more than $200 million when the company shut down in November 2009.
At the sentencing hearing, Magnus-Stinson spoke harshly of Durham, but said there was no point in handing down a sentence that was a multiple of his likely life span.
"This case was all about numbers that were puffed up to create appearances," she said. "I am not going to play that game. Mr. Durham is 50 years old."
The two dismissals only slightly change the math, reducing the calculation under federal sentencing guidelines from 225 years to 185 years.
The only way for Durham to extricate himself from a decades-long prison sentence likely would be to get his convictions overturned by the U.S. Supreme Court—which he is trying to do.
It's a long shot to be sure, perhaps even more so because the former Ice Miller business attorney is representing himself in that process.
Durham and his co-defendants—Fair co-owner Jim Cochran and Fair Chief Financial Officer Rick Snow—argued before the U.S. Court of Appeals that their convictions stemmed from a series of legal missteps, including a judge's 2009 decision to allow wiretaps without requiring investigators to demonstrate that "ordinary investigative techniques failed or were unlikely to succeed."
The attorneys also fault Magnus-Stinson for not calling a mistrial when prosecutors during closing statements took "unfair advantage" of an inadvertent misstatement by Cochran's public defender, William Dazey.
Dazey said in court he believed a "scheme to defraud" had occurred, something he later said he had not meant. The appeals brief argues that prosecutors twisted that "obvious misstatement" into a "critical concession."
"To a jury starved for something it could understand, the prosecutor's endorsement of Dazey's misstatement must have seemed a comprehensible proposition with which it could too easily agree," the defendants said in their brief.
"It gave the jury the mistaken impression that a defendant—one of only three people who really knew what had happened between Snow, Durham and Cochran—had admitted the core element of the case for all three."
Durham decided to proceed with seeking U.S. Supreme Court review on his own after his pro bono attorney, James Mutchnik of Chicago-based Kirkland & Ellis, stepped aside last fall.
Court records show Mutchnik withdrew after concluding that "no reasonable grounds exist for … filing a writ of certiorari," the formal request for Supreme Court review. The high court rarely grants such requests. Durham submitted his in April.•
 
Please enable JavaScript to view this content.