Terry Vorten witnessed firsthand the death throes of a once-world-beating analog technology—the typewriter. Its destruction turned his lucrative profession repairing the machines into an anachronistic cottage industry.

The 69-year-old resident of the Shelby County town of Fairland might be the last typewriter repairman in central Indiana. Vorten, who these days works out of a tricked-out utility barn in his back yard, for decades owned the King Typewriter Agency, a busy downtown Indianapolis shop that employed a team of workmen and at its peak handled more than 20 repairs daily.

Customers "wanted their typewriters back yesterday," Vorten recalled. "I always told them, if they wanted them back yesterday they should have brought them in the day before."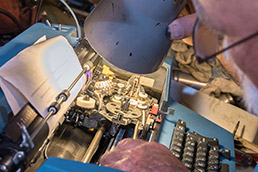 Vorten can usually get a Selectric set right for about $100, as long as he has the correct parts or can lay his hands on them. (IBJ photo/ Eric Learned)
It was tough work, with nights that sometimes lasted until 2 a.m. But the money was good. More than good, actually.

"I don't have any regrets," Vorten said. "It made me a darn good living and it raised four kids."

But then came personal computers and the digital revolution. It's been quite a while since anybody needed a typewriter back from Vorten "yesterday." He now works at leisure on a trickle of repair jobs.

"It's winding down, but I'm in a period of my life where that's a good thing," he said.

Career path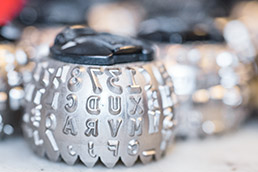 IBM rocked the typewriting world in 1961, when its Selectric line debuted with letter balls that rotated to strike the paper instead of individual swinging bars. (IBJ photo/ Eric Learned)
Indeed, the typewriter's slide from absolute business dominance to obscurity tracks almost perfectly with Vorten's own career path. When he got out of the Marine Corps in the 1960s, he took a repair job with IBM. Since he found computers too daunting, he elected to fix typewriters instead.

Which wasn't as bad a move as it sounds. At the time, IBM dominated the typewriter market with its Selectric line, which used a mechanical letter ball instead of keys. Watch any episode of "Mad Men" and you'll find them perched on every desk.

Not that Big Blue stood alone. There were lots of big names, from Smith-Corona to Remington Rand to the Japanese firm Nakajima. Vorten, who struck out on his own after half a decade with IBM, could fix pretty much all of them.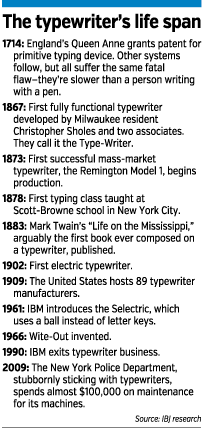 "I could get a job anywhere in the world I wanted to," he recalled.

Ironically, his business was strongest right before the bottom fell out—from 1985 to 2000. Personal computers first reared their silent, non-clacking heads in the 1980s, but early models were too expensive for mass adoption. In that span, Vorten found himself servicing a lot of word processing/typewriter hybrids—basically typewriters with a small screen so the typist could spot errors before the keys transferred them to paper.

Fading fast

Everything changed as the new millennium neared, when Microsoft introduced Windows 95 and those once-pricey computers soon dipped below $1,000. Before Vorten could say "tipping point," business tumbled, both at his shop, which he closed in 2000, and everywhere else.

IBM sold its typewriter operations in 1990. Today, the only nominally American typewriter maker (the firm builds its units from imported parts) is a New Jersey firm called Swintec that ekes out a living making machines for prison inmates, who in many states aren't allowed computers. Swintec also does a tepid business with funeral homes (some states still require typewritten death certificates) and other late adopters such as police departments.

In Indianapolis, Konica Minolta Business Solutions (formerly Rex Business Machines), which started selling typewriters in the early 1940s, stopped carrying them in 1996. It's been years since anyone asked for one, said senior account executive John Van Senus.

"Fax machines are the next thing you won't see anymore," said Senus, whose 27 years in the business have left him somewhat blase about technological change.

Ball State University business professor Rodney Davis, a 40-year veteran of the Miller School of Business, can remember when the university's Whitinger Business Building rang with the clack of classroom typewriters.

Now, the only ones on BSU property are a collection of antique models in a glass case on Whitinger's second floor.

"We recently had some receptions up there for retirees, and I noticed people standing in front of the case with their cups full of punch, looking at the display," said Davis, 68.

Students either ignore the machines or stare at them with blithe incomprehension. Davis figures it won't be long until they gaze with equally uncomprehending eyes at desktop computers, which in this smartphone-obsessed world are turning into digital dodos. But there's a lesson in all this, he surmises.

Even though the technology changes, he said, "you're still basically doing the same job, which in this case is communicating. "

Harvesting old parts

Vorten's situation offers an object lesson in making lemonade from life's lemons. The few typewriters still operating need repairmen now more than ever.

"A lot of private companies use them for forms, or to get an envelope or a check out in a hurry," Vorten said. "You can do it on a typewriter before you can even get it set up on a computer."

Also, a growing cadre of hipsters and collectors like the idea of having a typewriter sitting around.

Vorten said there's probably a business model in finding old machines, fixing them up, and selling them for top dollar. It's just not a market he's interested in pursuing at this point in his life.

"If you're one person like me, you can be as busy as you want to be," he said. "I don't want to be, because I'm basically retired. These days, if someone calls me with an attitude, I just tell them I'm out of business."

He also gets calls from people who find old models in attics and want to know how much it costs—and whether it's possible—to get them working again. It all depends on whether he can lay hands on replacement parts. A Selectric, for instance, usually costs around $100 to set right.

"Most guys like me have enough parts sitting around to last 100 years," he said.

Though not quite as many as he once owned. He used to rent a 15-foot-by-30-foot storage space that was stacked floor to ceiling with typewriters and adding machines he kept around to cannibalize.

Finally, he tired of paying rent on the space, cleaned it out and junked perhaps 500 Selectrics and untold numbers of manual units. The carnage included some 50 Royal Manual FP typewriters.

"Recently, a person called me wanting an FP, and I figured I'd go on eBay, find one for maybe five bucks, and fix it up for them. I went online and found that some went for as much as $1,200. The demand for them is unbelievable. My wife went through the ceiling."

Vortex plans to stick with his current business model. A while back, he tried dabbling in personal computer repair. He found himself frequently counseling distraught owners whose hard drives had crashed and taken all their files with them.

"I'd tell them, 'If you had a typewriter, this wouldn't happen,'" Vorten said. "You could look in a file cabinet and everything would be there."•