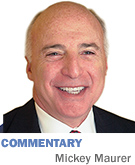 "That explains everything," my wife exclaimed upon learning that I am 2.5 percent Neanderthal. Of course, I knew that even before the results of a DNA test were revealed. Those Neanderthal characteristics had exhibited themselves exuberantly throughout my four years in the fraternity house at the University of Colorado.
Janie cites a popular definition of Neanderthal—"crude or primitive"—when describing my dinner manners. I sometimes eat with my fingers. Around our house, our grandchildren refer to that as "Papa-style."
You, too, may be part Neanderthal. The first Neanderthals are believed to have existed between 200,000 and 250,000 years ago (that's about a quarter million years before creationists insist the world began). Based upon improved radiocarbon dating of materials from 40 sites in Western Europe, it is estimated they died out in Europe between 41,000 and 39,000 years ago, which coincides with the very cold period in Europe. Perhaps Neanderthals didn't like to cuddle.
Neanderthals may also have gone extinct because they bred with modern humans and disappeared through absorption. According to the scientists at National Geographic who analyzed my DNA, about 60,000 years ago one of my ancestors chased a Neanderthal girl through the forest. It couldn't have been love at first sight. I've seen what those girls looked like. But I'm proud of my Neanderthal heritage. The Neanderthals had a more robust build and a wider, barrel-shaped, rib cage. Evidence suggests they were stronger than modern humans, with particularly strong arms and hands. They had better eyesight, thanks to larger eye sockets, and a larger cranial capacity, suggesting a bigger brain—larger than the modern human brain.
An analysis of your DNA can tell a lot about you. DNA is sometimes called "the molecule of life." It is the genetic material determining the makeup of all living cells and is the material that transfers genetic characteristics in all life forms. It is the workings of the DNA molecule that provide the most fundamental explanation of the laws of genetics. It's what makes you you.
Because each person's' DNA is unique, for some time DNA has been a valuable tool in connecting suspects to crime scenes. The mantra of former local defense attorney Mark Shaw was, "no fingerprints and no confession, and I'll take the case."
These days, yeggs can't leave their DNA lying around. Humphrey Bogart's Philip Marlowe had to work hard to pin the wrap on his man. Today, all he would have to do is glance at the lab report. DNA analysis has not only solved cold crimes; it has exonerated innocent people from death row.
There is yet another reason to analyze DNA. National Geographic launched its Genographic Project in 2005, an ambitious attempt to answer fundamental questions about how our ancestors migrated from their African homeland and came to populate the Earth—the story of the greatest journey ever told. They cite the project as "one of the most exciting and profound exploratory journeys that National Geographic has undertaken."
You can send your DNA in confidence to National Geographic and for about $160 learn where you originated from and the details of your genetic history. Almost half a million people from more than 130 countries have submitted samples. According to Dr. Spencer Wells, a population geneticist and leader of the project, "The greatest history book ever written is the one hidden in our DNA."
Participation in the project is easy. Go online to www.genographic.com and order your Geno2.0 kit box. The box will contain swabs to harvest samples from your cheeks. It's painless. Follow instructions and wait six to eight weeks to find out the migration paths your ancestors followed thousands of years ago and learn the details of your ancestral makeup, your branch on the human family tree. Find out who you are. If you have Neanderthal DNA, join me for dinner.•
__________
Maurer is a shareholder in IBJ Corp., which owns Indianapolis Business Journal.  His column appears every other week. To comment on this column, send e-mail to mmaurer@ibj.com.
 
Please enable JavaScript to view this content.