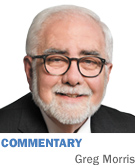 We're already in the second half of another year and, before you know it, businesses will be deep into planning for 2016. Like every other year in recent memory, I would predict the cost of health insurance premiums will be a major topic of discussion during the budgeting process.
Maybe that won't be a big negative this year. The national media have been inundating us of late with positive spin about how great Obamacare is working. Allegedly, many businesses like it now. We just witnessed the big Supreme Court decision that upheld tax subsidies in all states. A CNN headline read, "Supreme Court saves Obamacare." Millions of uninsured are signing up for health insurance. Maybe the news is good this year on the health-insurance-cost front.
Wait a minute. Hold that thought. This news just in. Here's a recent headline from the New York Times: "Health insurance companies seek big rate increases for 2016." Let's see what this is all about.
According to the article, written by Robert Pear, health insurance companies around the country are seeking rate increases of 20 percent to 40 percent or more for 2016. How can that be? Well, it looks as though the customers they acquired under Obamacare filed more claims than expected, as this group had a higher utilization of health care services than predicted.
I'm shocked. Who could have predicted the insurance risk pool would pick up more sick people and not enough healthy young people to balance things out?
The article reports that Blue Cross and Blue Shield plans are seeking rate increases that average 23 percent in Illinois, 25 percent in North Carolina, 31 percent in Oklahoma, 36 percent in Tennessee, and 54 percent in Minnesota. Other rate increases mentioned in the article were 32 percent in Texas, 51 percent in New Mexico, and 37 percent in Kansas. These rates aren't final and are only requests. The final rate increases are expected in October. President Obama and the feds are encouraging state insurance commissioners to demand lower increases.
The average rate increase for Indiana? Early forecasts indicate less than 10 percent. But that's because our health insurance rates are already higher—by maybe 30 percent.
So, what can we expect health insurance premiums to do in the future? They're going up, and they'll continue to go up. Eighty-five percent of the 10-million-plus people who obtained coverage through federal and state marketplaces this year received subsidies to help pay the premiums. Please remember "subsidies" is code for taxpayer-funded dollars. You and I pay for those subsidies. The problem is, you can't soak enough so-called rich people to foot the bill.
When Obamacare was introduced, it seemed obvious to a lot of folks that there was no sustainable way to pay for it. I remember thinking then, failure to pay for the initiative wasn't a problem to the architects of the legislation because the end game would be a complete takeover of health care by the government. If this initial step failed, the government would simply come swooping in and save the day. We've certainly learned from this administration that government is all-knowing and isn't afraid to wield the power to make you conform.
And so, I fear we are well on our way to a single-payer health care system. While many progressives see that as a positive, I submit that this should scare the hell out of all of us. There can be no more inefficient and dangerous way to administer health care services than through a system controlled by the federal government.
The health care sector as a whole is preparing for whatever comes next. Large insurers, hospitals and many other health care business sectors are consolidating. Doctors are considering early retirement. I worry what will happen to the world-class health care now available here in central Indiana that I admire and appreciate so much.
Can this progressive takeover of our health care system be stopped or is it too late already? As you go to the polls in 2016, remember that only Democrats and not one Republican voted for this boondoggle. Eight years of Obama will be all we can take. If we elect more of the same, stick a fork in the country. We'll be overdone.•
__________
Morris is publisher of IBJ. His column appears every other week. To comment on this column, send email to gmorris@ibj.com.
 
Please enable JavaScript to view this content.