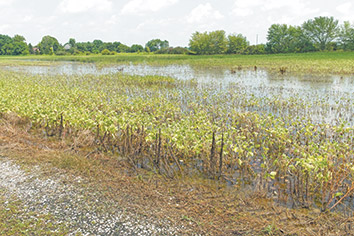 The corn maze at Piney Acres Farm near Fortville serves as a grim illustration of what a strange, soggy year it's been for Indiana's farmers. Owner Rex Zenor planted the eight-acre design in the spring. He hoped that by fall it would grow into a big attraction for the 73 acres where he and his wife, Janice, grow everything from strawberries to pumpkins to Christmas trees.
What a difference a couple of months—and untold inches of rain—make. The maze looks normal in some spots, stunted and sick in others.
And don't get him started about his pumpkin patch, which became a lake during early July's inundations. Almost nothing's left, which means he'll have to bring in pumpkins from backup suppliers.
He reckons that and other weather-related misfortunes could dent his profit 30 percent to 40 percent this year.
"If it was all on high ground, it would be looking great," Zenor said. "Wherever there's a low area, it's not going to produce much of anything."
Indiana's corn and bean fields look a lot like a giant version of Zenor's rain-vexed maze. At least 25 percent of the state's major crops of corn and soybeans were in severe trouble as of late July, according to the U.S. Department of Agriculture. That's about 3 million acres of cropland that might produce diminished yields or nothing at all.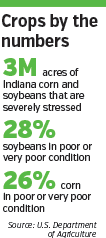 Indiana has more damage from excess moisture than any other agricultural state, the USDA says.
Purdue University estimates losses to the state's corn and soybean crops at $300 million and $200 million, respectively, though it's still too early in the season to generate hard numbers.
"You go all the way from totally gone to sections where there are tiny, yellow-looking plants that are terribly stunted but not dead," Purdue ag economist Chris Hurt said. "If conditions improve, they could respond some. Does the state have the possibility of getting back up to normal? Probably not on corn. There's just too much damage and corn is too far along."
It's a different story with soybeans. Corn pollinated roughly the third week of July, in the midst of the heavy rains, which means little can be done at this point to increase the yield. Soybeans, on the other hand, pollinate from late July through August. Which means there's time for a rebound.
"The plant can recover if the weather is more conducive," Hurt said. "Even in mid-August, it can still be adding to its yield potential."
Parts of the state, those generally south of Interstate 70, won't face substantially reduced yields because they got less water or it arrived when the crops were well-established and better able to withstand the deluge.
Things didn't go so well up north, where the corn was less advanced when the rain hit. And then kept on hitting. A typical Indiana June brings about five inches of precipitation. This year brought 20.
"Double the normal rainfall is bad," Hurt said. "Doubling it again is worse."
Other crops have been hammered, too. Alfalfa (hay to civilians) went to seed in the fields because it was too wet to mow. Poor-quality hay could make it challenging to feed animals through the winter, Hurt said.
Indiana's minuscule wheat crop has also faced bizarre, moisture-related issues. In some cases, the seeds still on the plants have actually started to sprout. The upshot is greatly decreased quality and market value.
Neither the USDA nor the state keeps comprehensive statistics on Indiana's vegetable crops, but Hurt has heard lots of anecdotal accounts of carnage. For instance, a farmer lamented the loss of 400 acres of tomatoes. Since there are only about 10,000 acres in the entire state, Hurt guestimates this single loss took out 4 percent of the state's tomato crop.
However, Roy Ballard, Purdue extension educator for Hancock County, said that, in spite of the weather, he hasn't seen a marked decline in vegetable stock at the central Indiana farmers' markets he monitors.
"I know there's a lot more weeds than they'd like to see," Ballard said. "And the harvest has been really delayed. But they're still bringing in the green beans and peppers."
Not that the folks who grow them haven't faced their share of rain-related hassles. Tomatoes have been swarmed by various forms of moisture-loving fungi, storms slowed or delayed picking, and excess water washed away or prevented the application of everything from fertilizer to weed killer.
Ballard reports lots of folks in his neck of the woods who face "pumpkin issues." And while sweet corn hasn't been seriously hurt, that could change. The crop is imminently perishable, so farmers plant it all summer long to ensure a steady supply. Right now, much of the stuff sold at farmer's markets was planted before the rains arrived. Things could get dicey as the summer wears on.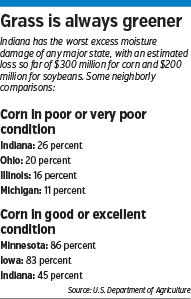 That's certainly the case for Hancock County farmer Joe Paxton. He tills some 2,200 acres, most of it in beans and field, or "dent," corn—the kind fed to livestock. But he also plants 10 acres of sweet corn. And because of the way the weather treated him, he's pretty sure his customers won't get any of his product in September.
"I usually plant some on the 20th of June so it's ready over Labor Day weekend, but that didn't happen this year because it was just too wet," he said.
Yet, Paxton thinks he'll have an OK year if his corn and soybeans enjoy close-to-normal weather for the rest of the growing season.
"If we get rain in August, I think we'll have an average crop," he said. "We still need rain once a week to get that. But if it doesn't rain in August, it could be tough."
Hurt thinks plenty of other Indiana farmers are hunkering down for a tough run. Low yields are just the latest in a long list of problems they're facing, including flat commodity prices and rising costs for everything from vehicles to fertilizer to farmland rental. Blame it on a string of silo-busting harvests and sky-high commodity prices that preceded today's hassles.
"There were several years, from 2010 to 2013, when prices and incomes were very high," Hurt said. "Partially as a consequence of those very high prices and incomes, the cost of production got higher. Many of the things farmers buy were at record-high levels for this 2015 crop."
Hurt hastened to point out that a lucky percentage of farmers weren't touched at all. And there's still time, if the weather during the last weeks of the growing season holds, for soybeans to recover some lost ground.
Plus, something like 80 percent of Indiana farmers took out crop insurance, meaning they can recoup about 75 percent of their loss. That's enough money to keep a bad year from turning into a foreclosure.
There's also the prospect that, with smaller supplies of corn and soybeans, farmers might get a better price for what they do bring to market. But that's not much of a silver lining for sodbusters who've gotten used to getting top dollar for bumper harvests.
"Some of these families have been hit hard, and are going from a very narrow income to a loss situation," Hurt said. "A lot of heads are already hanging low over the work of adjusting back to very moderate farm incomes."•
 
Please enable JavaScript to view this content.