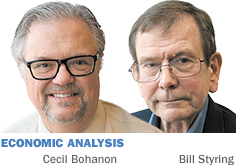 Earlier this month, the Obama administration's Environmental Protection Agency promulgated new and more stringent carbon dioxide, or CO2, emission rules. Environmentalists hailed this as a triumph for public health and a much-needed salvo in the war on climate change. Business interests decried the rules as administrative overreach that will impose significant and differential damage on Indiana while providing negligible environmental benefit.
We are not going into the weeds of the many technical, scientific and legal arguments at issue in all this. We offer one simple economic observation: Reductions in CO2 emissions come at an economic cost today, while the benefits accrue in the future. This economic truism says nothing about the desirability or lack thereof of the new rules. But please don't tell us there are no current costs to the EPA rules, that forcing electricity producers out of low-cost fuel into high-cost fuel will usher in an era of economic growth.
Fossil fuels are currently used to produce electricity because they are the low-cost way of generating electricity. If alternative, non-CO2-emitting means of generating electricity are available at lower costs, no mandates are necessary to ensure their adoption. Inevitably, the EPA rules must lower economic growth, although whether by 2 percent a year or 0.0002 percent a year is an open question. Perhaps bearing this cost is worth it, but it is rather silly to say it is not there.
If increased CO2 concentrations in the atmosphere are going to cause the economic and ecological apocalypse that many claim, while reducing current CO2 emissions imposes low costs, then surely the rules are good. An EPA study estimates Indiana electricity rates will rise 1 percent. If, on the other hand, increased CO2 concentrations in the atmosphere impose little ecological or economic damage, while reducing current CO2 emissions imposes high costs, then surely the rules are bad. An industry-sponsored study indicates global average temperature change of less than 0.02 a degree while raising electric rates 20 percent.
So whom do you believe? Many dismiss industry estimates out of hand because current producers have vested interests in avoiding costly mandates. Fair enough. However, government bureaucrats have incentives to expand their purview and influence—more guaranteed employment, higher pay grades! Moreover, activists of every stripe are usually the most obstinate and intractable special interest around. Do facts and data make much difference to adamant pro-choicers or pro-lifers? Same goes for many, if not most, "environmentalists."•
__________
Bohanon is a professor of economics at Ball State University. Styring is an economist and independent researcher. Both also blog at INforefront.com. Send comments to ibjedit@ibj.com.
Please enable JavaScript to view this content.