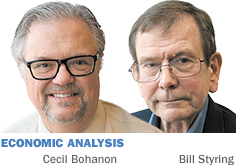 China allowed its currency, the yuan, to float downward (in other words, to become devalued) against the U.S. dollar. One day this August, a dollar bought 6.2 yuan. A few days later, a dollar bought 6.4 yuan. The net effect is to make Chinese goods about 3 percent cheaper to U.S. consumers. "Made in China" means workers and suppliers are paid in yuan, and it takes slightly fewer dollars to pay them.
But, "Holy firestorm, Batman!" From the political reaction, you'd think China just nuked Los Angeles and invaded Hawaii. "They're killing us. Now, they're going to take more jobs. This is the biggest devaluation in 10 years," thundered Mr. Trump. Various other politicos from both parties accused the Chinese of "serial currency manipulation." They demand unspecified "action" in retaliation for these "unfair trade practices."
All of this is mostly baloney. It smacks of the time-honored ploy of hiding your own policy failures by whipping up public opinion against a foreign devil.
Don't misunderstand. We have no love for the repressive Chinese government. And we laugh at the hubris of central banks that believe their ouija boards and tarot cards can somehow determine the "correct" price for their currency. We're the last people to apologize for the Mandarins who run the Peoples Bank of China, or PBC, which is roughly equivalent to our Federal Reserve.
But the historical record doesn't support any of these wild charges. Ten years ago, in August 2005, the exchange rate was about 8.1 yuan per U.S. dollar. The PCB allowed the yuan to "float" (i.e. be more or less market-driven) down to 6.8 yuan to the dollar in October 2008 (i.e. about a 17-percent appreciation). The PCB then "pegged' (i.e. fixed) the yuan to the dollar at that rate until July 2010, when it allowed a further downward float to 6.2 yuan (about 9 percent) by January 2014.
In other words, between mid-2005 and early 2014, Chinese goods became about 26 percent more expensive. The yuan underwent a massive increase in value. Until this August, the yuan was "softly pegged" in a narrow range of about 6.1-6.2 yuan to the dollar. Then we had this horrible uptick to 6.4 yuan and the cascade of anti-China rhetoric.
Americans are understandably upset with years of sluggish U.S. economic performance. We don't blame the political class for trying to blame it on someone else, preferably a foreign someone else.
Don't fall for it.•
__________
Bohanon is a professor of economics at Ball State University. Styring is an economist and independent researcher. Both also blog at INforefront.com. Send comments to ibjedit@ibj.com.
Please enable JavaScript to view this content.