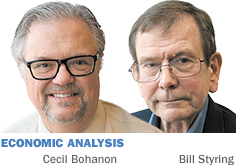 A funny thing happened on our way to the gas station last week. We'd heard world oil prices were tanking. We expected our fill-up to be a bargain. But to our dismay, retail gasoline prices had spiked to nearly $3 a gallon.
It turns out the BP refinery in Whiting had been partially shut down for "unscheduled repairs." And this isn't the first time this has occurred. Many see an "evil oil company conspiracy." Politicians of various stripes were writing dour letters to BP asking for an "explanation."
We checked out the data on refinery capacity in Indiana and its four bordering states and found that, sure enough, the Whiting plant accounts for about 18 percent of the region's refining capacity. So cutting the Whiting refinery's output by half reduced regional supply about 9 percent. Given that most of us have a hard time adjusting our gasoline consumption—economists say our demand for gasoline is inelastic—we would expect a rather dramatic increase in price and a windfall for gasoline refiners.
So is the BP outage a ruse designed to manipulate prices and gouge the public? Well, maybe, but BP sure is being nice to its competitors. Upon the shutdown of half of the Whiting refinery, 90 percent of the gasoline sold in the region comes from Marathon, Exxon and other refiners. This means their shareholders—not BP shareholders—reap the lion's share of the gains from the gas-price spike.
A much more plausible explanation is, there was a mechanical breakdown in the refinery. The refinery sprawls over 1,400 acres—three times the size of the Indianapolis Motor Speedway. It employs 1,800 workers, refines numerous types of oil into numerous blends, and is subject to many environmental regulations. Did we mention the facility dates from 1889 and that petroleum is a volatile and dangerous substance?
It certainly seems plausible that, in an operation this large and this complex, things will go wrong now and then. As BP is contractually obligated to supply gasoline, the company has every incentive to keep the refinery running and appears to have executed speedy repairs.
We don't like $3-a-gallon gas—but in a world where NIMBY keeps new refineries from being built, where we want refineries to be safe and clean and want gasoline to be as environmentally friendly as possible, occasional spikes in gasoline prices are part of the price we pay. Get used to it.•
__________
Bohanon is a professor of economics at Ball State University. Styring is an economist and independent researcher. Both also blog at INforefront.com. Send comments to ibjedit@ibj.com.
Please enable JavaScript to view this content.