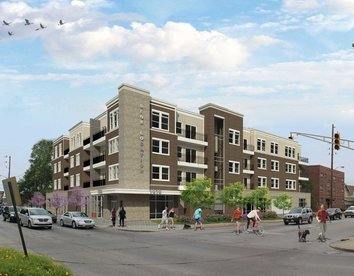 Ransom Place neighbors hope to scale back a new development pegged for their downtown neighborhood because of parking concerns and what they fear will be an influx of short-term student renters in the housing planned along Martin Luther King Jr., California and 10th streets.
Echoing their concerns, the Indianapolis Historic Preservation Commission has once more postponed its approval of a 52-unit residential development and asked Indianapolis-based Studio 3 Design to again refine its plans for the project.
Last week's meeting was a repeat for Studio 3 Design Principal Tim Cover, who is trying to gain the commission's approval of the four-building project, which would be developed on eight lots by Olaf Lava LLC of Bloomington. The preservation board also heard the plans in August.
"I'm still very concerned about the level of density that this entire project is proposing," said board member Ashley Payne. "It seems like it's trying to push a lot of units on a very small, confined space."
Cover said that new plans he presented on Sept. 2 reflected "substantial changes" to the project that came as a direct response to the neighbors' concerns. The amendments included turning two duplexes slated for California Street into four, four-bedroom homes. The overall project now includes one building with 27 apartments, another with 21 and the four homes.
"We heard the concerns of the neighborhood, that they'd like to see this smaller scale to go with the homes on California Street," Cover said. "Down the road, it could become owner-occupied, single residence(s)."
Other changes, he said, included reducing by six the number of beds in the development, adding nine more parking spaces and new visitor parking, lowering the building height, and creating a community room for renters and neighbors.
"We truly want to be an integrated portion of this neighborhood," Cover said. "We want to … promote positive activities and growth. We're taking four vacant sites, we're bringing in development, we're providing security with that and overall, the biggest thing is, we're providing future residents."
But current Ransom Place residents said the changes didn't go far enough to reflect the needs of nearby property owners.
Resident Paula Brooks said parking is already limited in the area. She feared what would happen with an influx of renters.
"If this project is green-lighted, inevitably some of the existing residents will not be able to park their cars day or night anywhere within Ransom Place or in the near vicinity," Brooks wrote in an email to the IBJ. "Unlike other downtown neighborhoods, we don't have hundreds of parking spaces available on our streets."
The commission asked the developer to include parking in the price of an apartment to encourage tenants to use assigned spaces instead of searching for a nearby free space. The developers said that would likely result in higher rent.
"I want an incentive for tenants to use the parking spaces," said board member Sally Cook.
And IUPUI professor Karl MacDorman said he feared the project would attract more college students who wouldn't take care of the neighborhood.
"You could have 10 students in a 2-bedroom apartment," MacDorman said.
Members of the preservation commission also shared that concern.
"They do become mini dormitories," said board member Susan Williams. "It's definitely a deterrent to the property values. To leave that to chance, I think, would be probably not very wise of us."
 The developer is expected to bring revised plans for the buildings to the commission's Oct. 17 meeting. 
Please enable JavaScript to view this content.