(Photo courtesy of the Indiana Pacers)
Forty years ago this fall, Quinn Buckner, 61, began a senior season at Indiana University that would lead him to history, as point guard for the unbeaten national-champion Hoosiers.

Later would come more hardware, as he became one of the few men who could say he played for an NCAA national champion, an NBA champion (with the Boston Celtics) and a gold-medal Olympic team. Now head of communications for the Indiana Pacers, Buckner talked with columnist Mike Lopresti about that amazing season.

How surprised are you that, 40 years later, there has not been another unbeaten national champion since Indiana?

I'm surprised. I always felt it was something that was a function of time and life. Everything changes. It's almost, in retrospect, like being a kid every time you talk about it. You never thought you were going to do what you did. And then you never thought it was going to last that long. It keeps you young in that regard.

More important is what it means to people. Coach [Bob] Knight said to us shortly after the game: "You'll never know what you've done for the people of Indiana."

But still, isn't it nice to be the last unbeaten champion?

Not for me. We played on a really good team. We will always be looked on as a very successful team. That is much more important than anything else.

Does it mean something to walk in Assembly Hall and see the 1976 banner?

If you notice, I don't wear any jewelry as a reminder. A banner doesn't do it. If someone walks up to me, I'm more than willing to discuss it. But I don't look at things that way. I wore my ring for a very short time when I was in the pros. I wore my Celtic ring a very short time, and obviously you can't wear a gold medal. I can't tell you where those things are now to be honest.

You don't know where your gold medal is?

I believe it's in a safety deposit box, but since I haven't been there for many years, I don't know if it's in there or not.

Does it mean something to you to be one of the few people to play for a championship team in high school, college, the NBA and in the Olympics?

I'm humbled by that. It's an out-of-body experience. I've always wanted to be a part of teams that were successful. There were three guys on my high school team that were better than me. And then going to play for Coach Knight and the way he coaches, that had its challenges, and they weren't all good. There was a time my dad told me to consider leaving IU. My dad and Coach Knight didn't get along very well, anyway.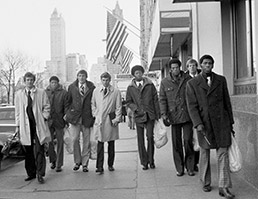 Quinn Buckner, far right, toured New York with his IU teammates in December 1975; they were in town for a tournament at Madison Square Garden. (AP photo)
How close did you come to leaving?

It forced me to hone down and really decide I was going to stay. I said … there … was no way that SOB was going to run me off [voice breaks, with tears in his eyes].

That's still a powerful moment for you.

I don't know where that [emotion] comes from. I had worked too hard. It gave me tenacity. I think my father said I started to become a man. He didn't say that to me, but I guarantee you he said it to my mother.

As an IU man, what do you think of what's been going on in the program lately, including some off-the-court issues?

That's tough. My experience was so terrific. Life has changed dramatically for young people. It's a very difficult thing to do to coach young people today. They're not used to people—and particularly males—making demands of them. I'm sure Fred [Glass, the athletic director] and Tom [Crean, the coach] are trying to figure out how you demand of them and grow them at the same time. With some young people today, if you demand of them, they shut down, and that's the challenge IU has had to deal with.

Will we ever see a reconciliation between Bob Knight and Indiana University?

I'm too old. I won't be around to see that happen. It's something that should have happened a long time ago, but I would be very surprised to see it happen. We handled [Knight's firing] badly as a university. You don't take a 20-plus-year employee and get them on a zero tolerance on issues that, over the long haul, you have been a party to. Now those people are gone, but he has his principle and he won't come off it. I say principle, some call it grudges, and nobody holds them like Coach.

Back to the 40-year anniversary, anything special at IU this season for the 1976 team?

I think the university is considering something, but they have to consider there are some who might not be eager to participate. I've talked to some guys about it. They have their position and they're strong in their position that it's something they don't want to do, particularly if Coach Knight is not involved. I think Fred has tried, and the university has tried, but Coach is where he is. I feel bad for the university, I feel bad for Coach, and those people who miss sharing in that.