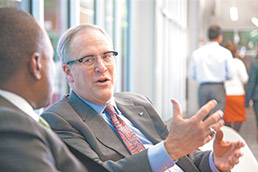 (Photo courtesy of Eli Lilly and Co.)
Since John Lechleiter became CEO of Eli Lilly and Co. in April 2008, he has watched $12 billion in annual sales evaporate as four of Lilly's blockbuster drugs lost patent protection and suffered through a string of failures when Lilly tried to bring new drugs to market.
With Lilly's prospects better now, Lechleiter, 62, talked about how he kept his spirits up during that tough period, as well as what Indianapolis needs to do to build a bigger cluster of innovation-based companies.
Lilly has had a string of successes in the last couple of years, getting several new products approved and posting encouraging results on experimental drugs. That wasn't always the case. From 2009-2011, Lilly had a string of late-stage failures and launched only one new drug. Can you describe how it feels coming to work now versus how it felt during that earlier period?
You can't expect the seeds you plant today are going to result in something you can harvest tomorrow. So when you have the disappointing news of a late-stage failure, I think what buoyed my spirits was that I knew there [was] more behind it.
There was a period of time when it felt like we couldn't do anything right, and now it feels like some days we can't do anything wrong. And neither one is true, OK? You have to accept [as] a businessperson that the answer is somewhere in the middle.
We never lost faith in our pipeline even though we had these early failures. On the other hand, with recent successes, I think we still have to be very—we are very—careful and cautious about how those drugs, for example, will compete against similar drugs in the class, about what it's going to take for us to bring those still to market with positive data. I do believe [in] our recent success. I believe it is reflective of a more disciplined, and more rigorous and more thoughtful, approach to earlier testing of our molecules. And a commercial decision-making process that is battle-tested, that is better now because of some of the disappointments that we had half a dozen years ago.
Why do you think it's important for this area to have a cluster of research and life sciences business activity beyond the big institutions like Lilly or Roche or Dow Agro?
For Lilly to continue to be successful and for Indianapolis to continue to be the place where Lilly wants to maintain, as we do today, the bulk of our R&D, we need to have a more bio-diverse community here.
We need to have strong academic institutions. We need to have small companies that are forming and competing for talent, by the way, but also drawing talent here. I believe we need to have government engaged in a meaningful way. I've yet to see a situation on the coasts where there hasn't been government participation and engagement. And I'm not talking just about grants, but also about creating an environment where life sciences innovation and startup businesses can thrive.
You've advocated for the Indiana Biosciences Research Institute as the next key thing for growing Indiana's life sciences business cluster. But the IBRI is trying to create a broad platform that's relevant to Lilly, Elanco, Roche, Dow Agro, Cook and others. By contrast, world-class science—which Lilly seeks out every day across the globe—tends to be pretty narrowly focused. Can you attract world-class scientists even with the broad platform of the IBRI?
We've got a chance to build something unique here that sort of transcends the work that would go on in our company walls. Once we get started, it will attract talent. And not necessarily every person is going to be a resident within that institute.
You'll have IU scientists, Purdue scientists, Notre Dame scientists that have joint appointments over there. You'll have people come through and do sabbaticals at the IBRI. We could have labs here that we would co-locate over there. No holds barred. In other words, there's no rulebook that says Lilly can't interact with the IBRI in some very novel ways.
Think about 16 Tech [the development where IBRI will locate] someday putting a lot of the tech company people, that are increasingly here in town, together with the biosciences people. This is one of the next frontiers. This is why Google is interested in the life sciences. I find it very encouraging. I think in the future a person that uses one of our delivery devices to give themselves insulin is going to want that to show up in an app on their cell phone. It's IBRI, but think of what else could follow that?
Click here for other interviews.
Please enable JavaScript to view this content.