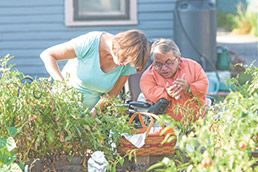 Fehribach and his wife, Mary Beth, participate in their neighborhood's community garden.
 (IBJ Photo/ Eric Learned)
Greg Fehribach was born with a disability that might have made him more an observer of life than a participant. Instead, he is a lawyer with a wife and two sons who travels the world, stays involved in Democratic Party politics, and consults on high-profile building projects to make sure they are accessible.
His disability comes with limitations—he's in a wheelchair, for example—but he's able to enjoy much of what life has to offer. And, like all of us, the 57-year-old contemplates the causes of our common woes—things like political gridlock— and what might have been.
If not a lawyer, what might you have become?
As a person with a disability, I had to do something intellectual. I never had a desire to be a firefighter or a police officer or a cowboy. I do have an interest in farming. I've really gained an interest in the farm-to-table/slow-food movement and would really enjoy getting good food into the hands of friends and neighbors and chefs, etc. I'd not only like to grow it, but I'd like to cook it.
Sports has played a role in your life. How did a kid who couldn't play sports benefit from them?
I grew up in a football culture. CYO football. Chatard [High School] football. I always enjoyed college football. When you are presented with problems, first and 10 or third and long, what do you do?
Here's a guy who could never be hit and I couldn't catch a pass, but I went from CYO football at St. Matthews School [as a student manager] in 1969 to helping manage the most accessible Super Bowl in NFL history. A lot of kids have that expectation of being able to go to the World Series, the big game, whatever it may be. Isn't it interesting that the guy with the disability at St. Matthews had the opportunity to go to the Super Bowl?
How did your work as an Americans with Disabilities Act consultant begin?
Evan Bayh was governor and needed someone to chair the Indiana Governor's Planning Council for People with Disabilities. This was prior to the ADA.
Evan sent me to Washington to do work on behalf of Indiana on ADA. This was all volunteer and civic responsibility. I was still practicing general law. When I was sworn into practice law in '86, people could discriminate against me. You didn't have to let me into your restaurant. Once ADA became law, it had an effect on people. There were lawsuits that began to be filed immediately.
Outside of work, how has ADA changed your life?
Travel and recreation. I have a picture of me on a beach. The ability for me to recreate, to go to the beach, be on the sand with my chair. That was something I'd never been able to comfortably do.
Beach accessibility wasn't the first thing people thought about with ADA.
No. First it was the parking lot. Then the rest room. Now you can get on the beach and be close to the water. It's been 25 years. Obviously, you've got to figure out what's most important. Should you spend your money on a [mobility] mat for the beach? Probably not 25 years ago.
The problem is, people with disabilities never had the economic wherewithal. Now, they might have the economic wherewithal to go to the beach. Before, no one ever considered that an option. Now, barriers are down; expectations are higher.
So the barriers ADA removed were more than physical?
Sustainable income is so important. The ability to actually have a job—one where I could have money in my pocket to take someone to dinner, have a home in a cool downtown neighborhood, to help put kids through college with a wife, without being relegated to beg for money from our government.
We've got to change that culture, so that people can be self-sufficient and have the desire to be self-sufficient.
How did you get involved in Democratic politics?
My first job as a summer intern was for the Marion County Auditor's Office. That was my first foray into any kind of politics. My second job was with Ed Simcox, as a summer intern. He was Republican secretary of state.
I do vote in the Democratic primary and consider myself a Democrat.
Who are your political heroes?
I think the No. 1 disabled politician was FDR. He'd sit in his car in full leg braces, couldn't get around and say, "The only thing I know for sure is I'm a Christian and a Democrat."
How about contemporary heroes?
It would go without saying [former mayor] Bart Peterson is a hero and a dear friend. I don't think Bart sees color, race, gender, LGBT or whatever. Similarly, he understands the need for people to be able to make a living. It's important for a community to have people who are economically well-heeled, so long as you make sure you take care of people who aren't as well-heeled or in really bad shape.
I also think the Obamas are heroes for interesting reasons. Many Americans still don't like the fact that a black man is president of the United States. And they don't like the idea that, heaven forbid, an African-American lady is the first lady.
Being a person with a disability, oftentimes that same type of pushback occurs. When we try to move for more equality or really tear down barriers of a variety of kinds, many people push back, not so much out of anger but because there's only so much to go around. They say, "Don't you think you have enough? Haven't we done enough for you and your kind?" I think the Obamas have to go through that on a daily basis. The way they have managed that with a high degree of grace and class is very heroic.
How have we gotten ourselves into the partisan gridlock that dominates politics today?
We don't spend time with people one-on-one or socially who have other or different views. We spend so much time chasing the electronic media or defending against it that we don't take the time to relax and really talk to people. I live in a very interesting neighborhood. I am certain our neighbors don't all see eye-to-eye, but I am certain we spend a lot of time together. Over a meal or a drink or over the fence, we spend a lot of time talking to one another. There's constant conversation. At the end of the day, we still share that burger and beer and enjoy it. I don't believe our governmental people in Washington or the Statehouse are doing that.
Click here for other interviews.
Please enable JavaScript to view this content.