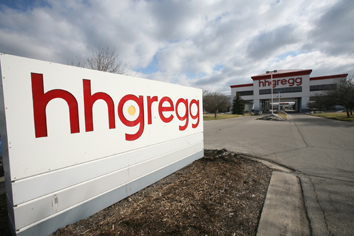 Dennis May, 47, joined HHGregg Inc. in 1999 as chief operating officer and became CEO in 2010. Since his arrival, the Indianapolis-based appliance and electronics retailer has grown from 16 stores to more than 200.
But the public company also has struggled to maintain market share as sales of flat-screen televisions fall and online and bargain retailers become more prevalent. Since going public in 2007, the firm has seen its shares hit $30 in 2010 and descend as low as $3.17 in the last year. As HHGregg celebrates 60 years in business, May lays out the strategy that the company hopes will lead it into the future.
IBJ: How has the company been able to survive for 60 years?

Dennis May
May: You try to bring people into the organization that are going to be passionate about the brand, passionate about the company and passionate about the customer. The consumer wants a value. Price is certainly part of that value. But it's not the only thing. So for us, we recognize that price matters, but we're going to differentiate on service. The consumer is so aware. There's so much information available to them. We want you to make your decision based on who you believe is going to provide you the best purchase experience.
What is the company's strategy in terms of building new stores?
We're not expanding new stores right now. We will again in the future. As we continue our transformation and figure out what the format looks like then it would be our intention to start to expand again. But online shopping is our fastest-growing business. We see it being 10 percent of our business in the very near future. For us, I really don't care where you purchase it. If you want to buy it online from me, I want you to have the best purchase experience. If you want to buy in-store, I want you to have the best purchase experience.
The company in recent years has expanded into home furnishings. How is that working out?
It's about bringing furniture to a suite of services. It's 6 or 7 percent of our business today. It will quickly be 10 percent. We see it being approximately 20 percent of our sales. It's a very high-margin category, which is attractive to the retailer. We also see it fitting the consumers' needs. It fits from the standpoint of outfitting my whole home. It fits from the standpoint of offering home delivery. It fits a category that's very similar to appliances.  
How is the upscale Fine Lines division progressing and what do you expect from it?
We need to do more with it. We've had double-digit growth out of our Fine Lines stores. If I had a time machine, I would go back five years and we'd have probably 50 Fine Lines instead of 11 of them. So look for us to be pretty aggressive there and really maximize that opportunity. Fine Lines doesn't belong everywhere, it just doesn't, but we have a great opportunity to expand that format.
What's the outlook for televisions, which have been a longtime staple of HHGregg?
There's upside in the TV business. That category has just been under significant duress. For HHGregg, it's gone from being an almost $1 billion business to roughly $650 million. The industry has been depressed because of lack of innovation or innovation that the consumer really cared about. We've missed a couple of times. We think this is going to be a 4K holiday. The product is finally right for the consumer. You're going to have 4K curved, really beautiful television sets coming into what I would call power-alley price points. So they're coming down into price points to where it's just a great value.
Heading into the holiday season, what are the expectations compared to past years?
As a public company, we don't provide a holiday forecast. What I would say, as a company, we continue to make progress. We're in the middle of a significant transformation. We're very fortunate as an organization that in our most recent quarter we returned to EBITA (Earnings before Interest Taxes and Amortization) positive. Improving our bottom-line performance is very important to us. We'll be very methodical and very focused on executing on our near- and long-term strategies. We have zero debt. We run this business with cash. Our balance sheet is just rock-solid. Really for us, it's about taking a longer-term view. We're a different retailer than we were five years ago, and we'll be a different retailer five years from now.
Who is your biggest competitor?
It depends on the category. As our business has changed, so for example in the mainstream appliance business, you've got Lowe's and Home Depot who are pretty big players in that business now. And you still have Sears there. In the electronics business, certainly Best Buy is there. We're in the furniture business now, so that comes with a different set of competitions. The fundamental strategy is to be competitive on price and differentiate yourself on service.
Do you ever foresee the company going private?
That's not a benefit or a hindrance one way or the other for us. Other than the technical filings that we do, I really don't know what would change. We're proud of our brand and we love to talk about our business.
Do you pay attention to the company's stock price? (It opened at $4.84 on Friday morning, down from a 52-week high of $8.22.)
Sure, you do. But for us, it's not an indicator of the value of the company relative to how we're performing. If we take care of our associates and we have a sound strategy, we'll deliver for the consumer. And if we deliver for the consumer, we'll drive the right bottom-line results. And those bottom-line results will drive value for the shareholder.
How satisfied are you with the company's performance?
There's more work to be done. I'm happy with the progress. In the world of retail you can never be satisfied. It's always moving, and that's one of the things that's exciting about this business. The consumer likes our brand, and they give us a shot. That's all you can ask for. We'll compete, and we can compete effectively with anybody out there.●  
 
Please enable JavaScript to view this content.