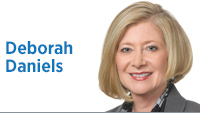 In the best of all worlds, elections would be about ideas—about specifically how each candidate would seek to improve the lives and opportunities of his or her constituents. There would be true competition, based not on personality or name recognition only, but on policy, commitment to positive change and the likely ability of the candidate to accomplish that to which he or she commits.
This certainly doesn't seem to be happening in the national race for the presidency.
Closer to home, we have a disappointingly non-competitive mayor's race. Barring some unforeseen circumstance, Joe Hogsett, with significant name recognition and a huge fundraising advantage, will be our next mayor.
I like Joe; I've known him for many years and consider him a friend. But it troubles me that his opponent, Chuck Brewer, can't even get on the public's radar screen. There seems to be no way to have a real exchange of ideas, a real comparison of philosophies, a real contest in this "race."
This isn't Brewer's fault. He has exactly the pedigree one would wish for in a mayor: a Marine who saw combat duty twice in the Middle East, a former senior manager of a Fortune 500 company, an entrepreneur and owner of two businesses with a master's degree from Harvard and an MBA from Northwestern.
He has articulated the serious problems facing Indianapolis and his proposed solutions to those problems. He has made it clear that the city must solve a looming budget deficit. He has developed a multi-faceted, creative approach to public safety, including not only additional officers, but also expungement of some convictions, intervention in the lives of those most at risk of criminal behavior and changes in policy to make it easier for convicted offenders to obtain jobs.
He is, like Mayor Greg Ballard, not political; he is willing to work with people on both sides of the political aisle to achieve results for Indianapolis residents and doesn't care who gets the credit.
But, just as occurs when a tree falls in the forest, no one is hearing Brewer's message. Because the election is seen as a foregone conclusion, he has had a hard time raising money. Even some normally reliable Republican contributors have shied away in the apparent hope that Hogsett, the presumptive winner, will favor their pet projects in the future.
Organizations that one would think would be drawn to Brewer's businesslike approach have endorsed Hogsett in an apparent desire to be on the side of the eventual winner. This occurs even though those on both sides of the political aisle come away very impressed when they do have the rare opportunity to hear Brewer speak.
Brewer can't pay for many ads, so he has requested nine debates. But, as favored candidates are wont to do, Hogsett's team has agreed to only one actual debate.
I don't fault them for this. It is a time-honored tradition that the lesser-known candidate seeks multiple debates, to raise his stature among voters by being on the same stage with the favored candidate and to increase the chances of his views being heard. And the response is equally time-honored: There is no reason for a favored candidate to agree to multiple debates, as to do so can only help his opponent.
The Seventh Circuit Court of Appeals has just thrown out Marion County judicial selection system as insufficiently competitive.
Sadly, our mayoral process is equally non-competitive. What can we do about that?•
__________
Daniels, managing partner of Krieg DeVault LLP, is a former U.S. attorney, assistant U.S. attorney general, and president of the Sagamore Institute. Send comments on this column to ibjedit@ibj.com.

Please enable JavaScript to view this content.