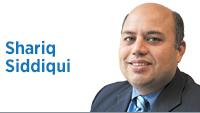 Days after 9/11, President Bush went to an Islamic center and cautioned our nation against ascribing to the faith the actions by a few individual bad actors. He sought to draw a distinction between a war against terrorists rather than against Islam. This is a far cry from where the modern day GOP stands.
Republicans are playing to their darker side by seeking to divide our nation with attacks based upon ethnicity and faith. While Donald Trump is on the hot-seat for his remarks about immigrants from Mexico, he is not the only Republican seeking to divide to win a primary.
Gov. Bobby Jindal for months has been attacking Islam and Muslims in the hope of distracting the Republican primary audience from a dismal economic record in Louisiana. Far easier to play to the extreme right and drive up votes than to explain why a surplus turned into a deep deficit and the unemployment rate lags the nation.
In late summer Congresswoman Michele Bachmann attacked Carly Fiorina on social media for "praising Muslims" when she was CEO of Hewlett-Packard. As CEO, Fiorina spoke out against hate crimes and attacks against Muslims and Arabs in the wake of 9/11.
Then came the infamous election rally where Donald Trump had a McCain moment. A Trump supporter stated that the problem the United States has is that we have Muslims and that President Obama was a Muslim. McCain at least corrected the fallacy that Obama, a Christian, was not a Muslim, arguing that he was a "good and decent person."
Trump has since said his job is not to "defend" Obama. He has also said that he knows and likes Muslims. However, he didn't have the leadership or courage to correct a supporter.
More recently, Ben Carson suggested that a Muslim would not be qualified to serve as president. The only "Muslim" Carson would support would be someone who leaves the Islamic faith. In essence someone who isn't a Muslim at all.
Carson's statements suggest a lack of understanding of the Constitution or history. Muslims have been in the United States since the Colonial era, and their right to practice their faith has been enshrined since 1786 with the passage of the Virginia Act for Establishing Religious Freedom.
These statements are as much about these candidates' bigotry as their cynical calculations based upon a projection of the GOP primary voter populations. These calculations show a failure by the majority of GOP voters to simply show up at primary elections and reject these candidates because their ideas fall outside of the GOP mainstream.
Wouldn't the GOP, the party of Lincoln and Reagan, want its presidential candidates to stand up to bigotry and violence based on faith and ethnicity?
Republican voters and establishments are allowing a fringe to define their party. It is important for the mainstream to punish such ideas by rejecting them at the ballot box. Unfortunately, by not showing up, GOP voters have allowed their apathy to be saddled with bigotry. The GOP is allowing a fringe group to prevent the party's embrace for more members.
In the 2000 election a large number of Muslim-Americans voted for President Bush because they identified with the party's social and fiscal conservative policies. They now vote against the GOP because of concern about civil rights, civil liberty and bigotry.
The GOP must stand up and fight for its soul.•
__________
Siddiqui is an attorney, has a doctorate from the Lilly Family School of Philanthropy at IU and leads the Association for Research on Nonprofit Organizations and Voluntary Action. Send comments on this column to ibjedit@ibj.com.

Please enable JavaScript to view this content.