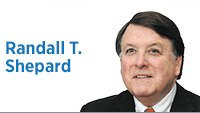 As the city election nears, I wonder whether Indianapolis is about to decide that our decades-old effort to recruit jobs and attractions to its central core can be brought to a close.

On a recent airplane trip, somebody asked where I lived. When I said Indianapolis, he replied that the city had come a long, long way and had more to offer than many people realize.

That transformation didn't happen by accident. Civic leaders and mayors of both parties and committed citizens have made Indy into a great place, often through what used to be called "public-private partnerships." Like building a football stadium with public and private dollars in the hope of attracting a team, to cite an early famous example.

Whether we call these efforts partnerships or incentives or subsidies, the result has been the same: drawing economic development that would likely not occur or would go to some other city willing to make a financial commitment.

There are visible examples in this very moment. One is what Bart Peterson called in IBJ a "rare opportunity for Indianapolis" –the 16 Tech life sciences and technology park, which needs a $75 million public bond issue to get underway. Another is the new $30 million Cummins office, the product of corporate and taxpayer commitment.

Other projects reflect the maturing of earlier joint efforts, like the $20 million investment to freshen Circle Centre, originally built with the commitment by the city and local corporations that invested tens of millions. Or the $50 million high-tech training center announced by the Pacers and St. Vincent's for construction near the Bankers Life Fieldhouse, itself the result of public and private financing 15 years ago.

The decision to make these public sector commitments runs back at least as far as Mayor Dick Lugar and Gov. Bob Orr. Effective use of inducements by former Gov. Evan Bayh's administration, for example, so tilted the tables in Indiana's favor that other governors complained publicly about being outdone.

Modern dialogue, though, sometimes assaults such joint efforts as corporate welfare, or subsidies for the well-to-do, or money spent downtown at the expense of neighborhoods. Deployment of tax incremental finance is resisted and occasionally results in collapse of a project that would ultimately add respectable employment, higher assessed valuation and increased income tax revenue.

Citizens looking for work during a slow recovery have a stake in such projects. Downtown Indy as an employment magnet has meant that 4 percent of all jobs in the whole state are now inside the interstate loop.

All of Indiana has an interest in this development, just as it does in similar efforts by other urban areas. Calculations by Ball State's Center for Business and Economic Research reveal that Marion County contributes massively more money to the state budget than it receives. (So do Evansville and Hamilton, Hendricks and Porter counties.) These funds make it possible to finance services in sections of the state facing economic decline and falling population.

There's a fair debate to be had about the effectiveness of these inducements when many states and cities offer similar assistance. What is not debatable is the probable effect of unilateral disarmament in the competition against other cities and states. As a friend of mine said, "You have to be careful about taxing activities that can move elsewhere."

All in all, then, both this city and Indiana stand to benefit from a city administration capable of savvy bargaining but committed to strategic use of incentives to recruit jobs.•

__________

Shepard, formerly Indiana chief justice, now serves as senior judge and teaches law. Send comments on this column to ibjedit@ibj.com.