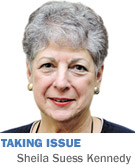 Americans like to think we live in a democracy. That's increasingly questionable.
I'm not talking about the effects of money in politics, or the chaos in Washington, or the radicalization of what used to be a responsible political party. I'm talking about a structural issue that is implicated in all of these developments: gerrymandering.
Gerrymandering—the process of drawing electoral district lines to benefit the party in power—is a thoroughly bipartisan practice. It's hardly new; it was named for Elbridge Gerry, and he signed the Declaration of Independence. Computers, however, have made the process far, far more precise.
In preparation for my participation on the General Assembly's Interim Study Committee on Redistricting, I revisited the relevant research. Bottom line: In much of the country (and in a significant majority of congressional districts), politicians are choosing their voters rather than the other way around.
A majority of House districts across the country are "safe," and we can see the results in our dysfunctional Congress.
When representatives are guaranteed victory, it is easy to become lazy and arrogant, safe to ignore popular opinion without fear of retribution.
But those "elected" under this system aren't the only ones who find it easy to become lazy. Lack of competitiveness breeds voter apathy. Why get involved when the result is foreordained? Why donate to a sure loser? For that matter, unless you are trying to buy political influence, why donate to a sure winner? Why volunteer or vote, when those efforts won't affect the results?
Have I mentioned that Indiana had the lowest voter turnout of all the states in the last election?
It's not only voters who lack incentives for participation, either; it's not easy to recruit credible candidates to run on the "sure loser" ticket. The result is that, in many of these races, voters have no meaningful choice even when there are two candidates on the ballot (and increasingly, in the general election, there is only one).
Pundits like to describe voter apathy as if it were a moral deficiency; I suggest it is instead a rational response to noncompetitive politics. (Watch those "apathetic" folks show up when someone is trying to zone a liquor store or a halfway house down the street!) Reasonable people save their efforts for places where those efforts might actually make a difference. Thanks to the ubiquity of gerrymandering, those places often do not include the voting booth.
Worst of all, gerrymandering exacerbates political polarization and gridlock. It is threatening to make actual governing impossible.
In competitive districts, nominees know they have to run to the middle in order to win in the fall. When the primary is, in effect, the general election, it becomes the only election that matters.
Accordingly, candidates focus on winning over the party faithful, primary voters who tend to be much more rigidly ideological. Republican incumbents know they will be challenged from the right, and Democratic incumbents fear threats from the left. Even where those challenges fail, they are a powerful incentive for the incumbent to protect his flank. So we choose nominees beholden to the political extremes, who are unwilling or unable to compromise.
There will always be some number of naturally occurring "safe" seats, because people tend to live in areas with like-minded folks. However, in states that have adopted nonpartisan redistricting (Iowa, for example), the number of genuinely competitive elections has increased, and with that increase has come greater voter turnout and citizen satisfaction.
Can Indiana emulate Iowa? Stay tuned.•
__________
Kennedy is a professor of law and public policy at the School of Public and Environmental Affairs at IUPUI. She blogs regularly at www.sheilakennedy.net. She can be reached at skennedy@ibj.com. Send comments on this column to ibjedit@ibj.com.
Please enable JavaScript to view this content.