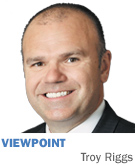 For 26 years, it has been my honor and privilege to work in public safety, serving the citizens of three cities, most recently as director of public safety in Indianapolis. During my service, I have met many of the finest, bravest and most honorable men and women our nation can offer. They do the unthinkable each and every day—putting the safety of others before their own.

Police are necessarily held to a higher level of accountability than other public servants. Citizens give local police incredible enforcement powers, including the ability to arrest and detain. And with much authority should come much accountability. It is healthy for a vibrant democracy to discuss police tactics, review policies, examine training, and search for new technologies, all intended to ensure transparency and accountability, while maintaining safety.

Departments across America continually review their disciplinary processes. The Indianapolis Police Department began a review in 2012. The department evaluated all aspects of the process, from how the initial complaint is handled to the investigative methodology. A team of citizens, officers and members of the Fraternal Order of Police was created to ensure that complaints are investigated in a timely, fair and thorough manner.

As a result of this work, the complaint process, administrative reviews and the criminal investigative process have been revamped. Additionally, the city purchased an Internal Affairs software system to collect all complaints and commendations, and to flag behavior that could be detrimental to the department and city.

Having witnessed the bravery and honor of so many officers, and having participated in efforts to continually improve service, I find the current national dialogue very disappointing. I am troubled by the rift developing between the police and some communities throughout America.

It is impossible for police to do their jobs effectively without the support of those they serve. When there is a level of distrust—whether the perception is with cause or not—conflict is inevitable and crime can flourish, while quality of life is greatly diminished.

As we debate police procedures, it is imperative to add another component to the discussion—civic responsibility. What is the community's role in restoring trust and holding those acting inappropriately in their communities responsible? If we want community policing, appropriate community accountability needs to be discussed as well.

I would simply recommend that all citizens take time to understand the accountability processes, ask questions, offer solutions, and hold the police department and community accountable for their actions. When a questionable incident arises, give the process a chance, listen to the details, form opinions and make changes, if needed, based on facts and not rumors or innuendo.

As a former chief and high-ranking police official, I know that a handful of officers can do the unthinkable by violating the trust and support of the community. In those cases, there should be no hesitation to terminate employment. It is unfortunate—and damaging to the community—when the actions of a few tarnish the reputation of and destroy the trust in so many good officers.

When all voices are heard and abuses of police power are dealt with quickly and openly with the full support of those wearing the uniform and, more important, the citizens they serve, we will have safer communities.•

__________

Riggs is director of public safety outreach at the Indiana University Public Policy Institute. He was Indianapolis' public safety director from 2012 through July of this year.