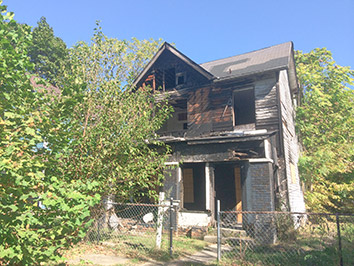 Pam Smock and her neighbors are tired of waiting for action on the burned-out, boarded-up house at 423 N. Tacoma Ave.—a house that has been tagged more than a year for demolition under a federally funded program.
But today it stands untouched—a site of frequent mischief from trespassers and an impediment to the rehabilitation the neighbors crave.
"We've asked for help but no one does anything," said Smock, who has lived 30 years in a home close to the Tacoma lot. "We hear it's on the list. That's all we keep talking about."
The "list" actually includes nearly 170 vacant houses—properties across Indianapolis that have been abandoned for years and identified last year for a Blight Elimination Program.
Fewer than 15 homes have actually been razed since Lt. Gov. Sue Ellspermann and Indianapolis Mayor Greg Ballard kicked off the program in September 2014 and accepted nearly $6.5 million in federal funds to tackle the demolition of the homes and some multifamily housing. One home—at 906 N. Beville Ave.—came down that very day as the political leaders watched. But few have followed.

Moed
"A lot of people were expecting these houses to already be gone," said Rep. Justin Moed, D-Indianapolis, who has authored legislation to help cities deal with abandoned houses.
But Katy Brett, who runs Renew Indianapolis, the city's land bank program, said more houses are coming down soon.
Renew Indianapolis signed a contract in July to help the city manage demolition for most of the targeted properties and will soon take ownership of 29 homes. That's the first batch of about 140 houses her group plans to buy, demolish and eventually replace with a new home or urban garden space.

 Brett
"We have stepped up and are taking this on," Brett said. "Demolition is a tool that can be used well or not be used well."
But Moed said the process has been taking too long. He blames Ballard's status as a lame-duck mayor whose term ends Dec. 31. The Mayor's Office referred questions about the program to Renew Indianapolis.
"The wheels kind of start to fall off the car because staff are leaving," Moed said. "But this is a pretty big problem that impacts quality of life."
Slow-grinding gears
Indianapolis is not alone, though.
The Blight Elimination Program has been slow to get off the ground statewide. Many advocates blame tedious federal rules that govern the demolitions.
In early 2014, the U.S. Department of Treasury gave the state permission to use $75 million of its $221 million in Hardest Hit Fund dollars on the blight program. But statewide, only a few hundred of an estimated 3,500 to 4,000 targeted homes have been demolished, said Bradley Meadows, a spokesman for the Indiana Housing and Community Development Authority.
After cities that received the money identify eligible properties, they have to acquire the rights to tear them down, select contractors and partners to manage the work, and get a sample set of demolitions approved by the state. The state has until the end of 2017 to use the funding.
But Brett said the cumbersome rules are worth it to take care of a big problem.
"Sometimes it's a hurry-up-and-wait situation with federal funds, which is probably the case here," she said.
Meadows, who expects a bulk of the homes to be demolished this spring, said he doesn't think Indianapolis is actually far behind. He said some cities that have moved quickly, including Terre Haute, were able to do so because they had fewer homes to tackle.
"Very few cities have started to actually tear them down," Meadows said. "A lot of communities have [become] a little anxious, because they received funding and because the properties aren't down, they [feel they] must be doing something wrong. This is a very new program and there's just a lot of upfront work that goes into it."
Some Indianapolis residents, including preservation consultant Connie Zeigler, aren't concerned by the delay. She's critical of the demolition plan and said she still hopes to see the money spent on stabilizing and rehabbing the houses.
"There are some that could be let go of because no one's going to take a chance," Zeigler said. "But that doesn't mean those houses couldn't be saved if there was interest and money available. It's demolition by neglect."
But Meadows said the U.S. Treasury has strict rules that forbid program funds to be used for anything besides demolition and greening of the lots.
"This money is specifically earmarked and we cannot use it for owner-occupied rehabilitation," Meadows said. "It's something we've had a lot of questions about."
That doesn't mean rehabilitation isn't an option for the properties. New houses have been built on the sites of all 13 homes that have been razed in Indianapolis—but that requires additional funding.
Reboot coming?
And the prospect of a new mayor taking office in January could fast-track discussions about how to tackle blighted homes.
Both mayoral candidates, Democrat Joe Hogsett and Republican Chuck Brewer, have made the topic a central component of their campaigns, saying that confronting the issue will also help the city's crime problem.
"The best thing is, they're actually talking about abandoned housing," Moed said. "The acknowledgement that this is a real problem is a great step. This isn't a real sexy thing to talk about like adding new police officers to the street."
Hogsett wants to create a broader database of abandoned and unsafe homes and then work with neighborhoods to decide which to tackle using a variety of tools, including demolition. He's also proposed a program in which the city would offer free or reduced-priced homes to teachers if they agreed to take care of them and teach in the city for four years.
"I'm all about helping neighborhoods help themselves," Hogsett said. "Maybe the historic neighborhoods have a very clear perspective, but that may not be shared in other underdeveloped or overlooked neighborhoods. The city should not be the ultimate arbiter."
Brewer said he wants to crack down on absentee and long-distance landlords by using city and state laws to "bring them out of the woodwork" and require them to take action on their properties or turn them over to the city.
Then, he'd seek to create incentives for people to redevelop properties. One idea, he said, is to offer one- or two-year property tax breaks to new owners who want to "roll their sleeves up."
"Some are burned-out hulks of former houses and they need to be demolitions," Brewer said. "Then there's the other end that have broken windows and high weeds. There needs to be appreciation for where these houses sit on the spectrum."
Until then, Smock and others say their neighborhoods would be better off without homes like the one at 423 N. Tacoma. They are eagerly awaiting the blight program to ramp up.
From responding to police calls to putting out fires, she said, the city already spends too much time and energy on the property and several others abandoned nearby.
Tearing down one would be a good start—but just that, a start, she said.
"Our police and fire have to risk their lives over and over again for a house that shouldn't be standing," Smock said. "They should bulldoze that entire block."•
Please enable JavaScript to view this content.