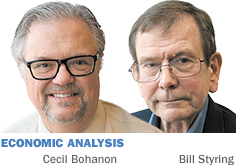 Everyone "just knows" U.S. manufacturing has been in steep decline for decades. Pundits and politicians have been telling us this since Nixon lived in the White House. Candidates Clinton and Sanders say so. Candidate Trump vows to bring back manufacturing from Mexico, China and everywhere else but Botswana. Candidate Santorum makes special tax breaks for manufacturing a centerpiece of his campaign.
When everybody "just knows" something is true, it's time to get a little nervous. That's when we suspend skepticism and uncritically accept the assertion.
So what about the claim that our manufacturing sector has gone down the toilet? True or false? Turns out that the answer is both!
The most remarkable thing about manufacturing over the last 50 years is the explosion in productivity. Each U.S. manufacturing worker produces roughly six times what his counterpart of the mid-1960s managed. That's a huge success story. We all benefit from cheaper, better-manufactured stuff.
Increased productivity means we can get by with fewer workers. In the mid-'60s, manufacturers employed slightly over 24 percent of the U.S. nonfarm work force. Today, it's barely 8 percent, a decline of two-thirds over a half century. If manufacturing is measured by jobs—and that's what politicians love to talk about—then, indeed, it's correct to talk about a manufacturing plunge. In the 1960s, a high school graduate (and sometimes the dropouts) could aspire to a good job tightening lug nuts on the Varoommobile assembly line. Today, robots do that.
But that doesn't mean manufacturing's role in the economy has declined. That part of manufacturing's "decline" is largely false. The Commerce Department's Bureau of Economic Analysis, the outfit that collects such numbers, reports that manufacturing generated a bit over 13 percent of GDP back in the '60s. Today, manufacturing accounts for just over 12 percent of a much larger GDP. That's a 1-percentage-point drop in 50 years. Such a relatively trivial reduction over such a long time hardly constitutes a wholesale cratering of the manufacturing sector. That shrunken work force just produces a whole lot more goods.
The rise of manufacturing productivity has a historic parallel. Something similar happened in agriculture. A century ago, half of us worked on farms feeding the other half. Today, 2 percent of us feed the other 98 percent, plus a healthy surplus available for export. Where are the politicians leading the charge to "get those ag jobs back?"•
__________
Bohanon is a professor of economics at Ball State University. Styring is an economist and independent researcher. Both also blog at INforefront.com. Send comments to ibjedit@ibj.com.
 
Please enable JavaScript to view this content.