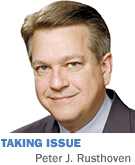 Will Rogers once joked, "I am not a member of any organized political party—I am a Democrat." Rogers' criterion would now put him in the Republican column.
We're getting a sense of how disorganized today's GOP is. At this writing, Paul Ryan has agreed to replace John Boehner as speaker of the House—but only if GOP "Freedom Caucus" members, who include Indiana's Marlin Stutzman, back his leadership for the remainder of the Obama presidency.
When this is published, we should know if this group—less than a sixth of the Republican majority—will support Ryan, or perpetuate the disarray that has prevailed since they forced out Boehner.
The far-right commentariat prefers continued disarray, reacting apoplectically to Ryan's insistence on unified party support before accepting a task he's never wanted.
Laura Ingraham says "Emperor" Ryan's "petulance" and "list of demands" make him "possibly the worst speaker choice."
RedState's Erick Erickson labels Ryan "Boehner's weaker sister," calling it "a terrible idea to put a man in the speaker's chair who is behaving with the ego of Barack Obama and the demands of a Caesar."
Rush Limbaugh warns "a lot of people think Paul Ryan has sold out." Mark Levin says "pseudo-conservatives" back Ryan. The Drudge Report headlines "King Paul: Pledge Your Support; Dem Favorite; Obama's New Partner." Jenny Beth Martin of Tea Party Patriots calls Ryan "another example of what's wrong with Washington, D.C."
There's more, but you get the drift. All because Ryan, who alone could conceivably unite House Republicans, said they must indeed unite behind him, else he's "happy to stay where I am."
The far-right media have an interest in now demonizing Ryan as an "establishment" figure blocking "true conservatives." Columnist Jay Bookman is right on the money: "Betrayal, outrage and fear drive their email fundraising; it is how they draw ratings points and Internet clicks, it is how they get themselves on Fox News. It is the meat upon which they feed, and these days they feed very well."
In the process, they've fed a frustrated Republican base the notion that failure to achieve conservative objectives under Obama is because GOP leaders are insufficiently courageous and confrontational.
In fact, as Brit Hume documents, the view that the GOP Congress has given Obama what he wants is "utter nonsense." Hume cites a long list of Obama proposals blocked by the GOP since it took over the House in 2010, including the American Jobs Act, the Paycheck Fairness Act, a huge minimum wage increase, gun control measures, new and higher tax rates, and yet further expansion of unemployment benefits.
Comparable failure of GOP proposals traces not to leadership "surrender," but simple math. Democrats have more than 40 Senators, meaning they can filibuster. They have over a third of both chambers, more than enough to sustain Obama vetoes (e.g., the Keystone pipeline bill).
These are facts, which—as John Adams said and Ronald Reagan liked to remind—are stubborn things. Here's another: Six of 10 Americans, including more than 40 percent of Republicans, see the leadership soap opera in the House as evidence of GOP "dysfunction."
Candor compels acknowledging a further fact: Facts mean nothing to those committed to a contrary narrative that the facts contradict. Resolution of the Ryan speakership drama will tell us whether House Republicans in that category now call the shots.•
__________
Rusthoven, an Indianapolis attorney and graduate of Harvard College and Harvard Law School, was associate counsel to President Reagan. Send comments on this column to ibjedit@ibj.com.
Please enable JavaScript to view this content.