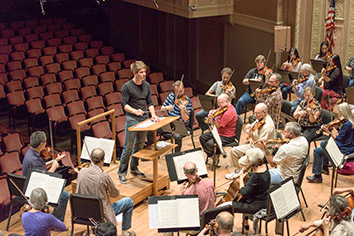 It's five minutes before he'll raise the baton for the Indianapolis Symphony Orchestra's 2015-2016 season-opening gala and Krzysztof Urbanski shows no sign of nerves.
In fact, quite the opposite.
As the musicians settle into their onstage positions and the audience fills Hilbert Circle Theatre, Urbanski is politely making a request to the stage manager.
What the maestro wants is for the conductor's stand to be removed from the stage. The piece of furniture is there for a good reason—to hold the score. In this case, Prokofiev's "Romeo and Juliet" and a suite based on Bernstein's "West Side Story."
But Urbanski won't need the stand. Or the scores. As he has been doing since early in his career, the 33-year-old conductor has been studying the notes for months and he's now got the full hour of music recorded in his head.
But what he'll do with it, no one knows. Not even Urbanski is sure.
"I am a completely different conductor than I was five years ago," he said. "Well, everyone changes, right? We discover new things."
Specifically?
"Recently, I discovered that I have a heart."
Conducting from his heart is taking Urbanski to heady places.
In his fifth season in Indianapolis, the Polish native not only leads the ISO, but also has concurrent gigs as chief conductor for Norway's Trondheim Symphony Orchestra and principal guest conductor for both the NDR Sinfonieorchester (known as the North German Radio Symphony Orchestra) and the Tokyo Symphony Orchestra, including upcoming tours of both Europe and Japan.
He's also an adjunct professor of music at Indiana University's Jacobs School of Music, all the while juggling an increasingly impressive list of guest conducting gigs with the likes of the Los Angeles Philharmonic, the Berlin Philharmoniker, and the London Symphony Orchestra, racking up attention-getting reviews and invitations to return.
"Urbanski gives off a dashing, rock-star vibe," wrote Los Angeles Times music critic Mark Swed after Urbanski conducted the L.A. Philharmonic.
"Urbanski made a statement from the very start of the evening. Coming on stage in a tight black suit and spiky haircut that could easily get him past the bouncers of any hip club in the city, he conducted Stravinsky's spiky arrangement of the national anthem, slightly throwing off those among 6,500 present singing along, but also conveying a feeling of freshness."
The Urbanski critics' experience, however, isn't always the same from show to show.
New York Times critic David Allen noted Urbanski's "scissoring downbeat," "head-butt for cross-rhythms" and "jumping jack for climaxes that peaked midair."
Far from seeing those actions as negative, though, Allen went on to say, "Unlike some of his peers, each signal had precise musical purpose, however showy it looked from the audience."
But John von Rhein described a somewhat subdued Urbanski in the Chicago Tribune.
"The rock star vibe is deceptive," he wrote. "His unshowy manner is directed entirely toward the music rather than the audience."


Uncertain start
Urbanski's career in Indianapolis began in far less auspicious conditions.
The music director position had been open since 2009, when Mario Venzago's contract wasn't renewed in the midst of a $2.8 million budget shortfall. A contract battle between ISO management and the musicians led to pay cuts and programming trims.
The ink had barely dried on the Urbanski T-shirts for the ISO gift shop when Symphony CEO Simon Crookall and Vice President of Artistic Planning Martin Sher left under a reorganization.
The new kid on the block, who was the youngest person to hold the music director position with a year-round professional American orchestra, found himself without the management support structure he had expected.
"He was in a bit of a limbo," said his manager, Jennifer Spencer, director of artist development at the U.K-based HarrisonParrott agency. "But he wasn't going to walk away when they needed him."
However, she added, "Had it gone on for six months—well, everyone has to think ahead."
Five years later, Urbanski said he's quite happy about how things are going and the freedom he has. The ISO pays him about $275,000 a year (according to the symphony's most recent tax filing), with more money coming from his three other steady gigs and guest concert appearances.
His manager declined to disclose Urbanski's guest-conducting fees, but Chicago-based arts consultant Drew McManus said guest-appearance fees for a conductor such as Urbanski can be as low as $15,000 or exceed $75,000, especially if the concert is being broadcast or recorded. That's not including expenses.
Both Urbanski and ISO management are comfortable with the response he's received in Indianapolis. While 2014-2015 numbers haven't been totally crunched yet, ticket sales from Urbanski's first to third season rose from $6.7 million to $7.1 million and contributions jumped from $6.9 million to $10 million.
Of course, many factors—including an in-place management team, pricing and programming shifts, and a recovering economy—are more likely to nudge those numbers than an on-the-rise music director. But Urbanski's high profile doesn't hurt.
Behind the music
Those who see a conductor as just a metronome in a tux don't see any of the planning. There's the selection of music for each season which, while influenced by marketing and other departments, is largely in his hands. Urbanski is particularly excited about the Cosmos in Music festival he has planned for early 2016, built around music influenced by astronomy.
There's also the meticulous work on the score, the building of relationships with musicians and whole orchestras in order to shape the sound, the testing of hall acoustics (Urbanski turned over his baton to an assistant at an early rehearsal so he could hear the same piece of music from different seats throughout Hilbert Circle Theatre), and the auditioning of potential new players. Urbanski insists those auditions happen when he's in town.
His attention to detail even influences the ISO's program book.
"In my 29 years as [ISO] program annotator," said Marianne Tobias, "I have never had a conductor ask me to send him all the program notes before publication as he has done. Yes, he reads them, and offers commentary. … If I have a question, he is quick to reply or to explain, even though he might be in another country."
While his schedule with the ISO varies each season, Urbanski averages nine to 11 weeks at the podium during the 19-week classical season. He and his wife, Joanna, have residences in both Indianapolis and Warsaw.
"I've worked with a lot of young conductors," said Spencer, his manager. "I think the difference is the way he prepares for each concert. He does everything from memory—that's something he imposed on himself."
The choice stems, she said, from his time as an assistant conductor in Warsaw where he watched conductors rehearsing and saw the score could be an obstacle to direct communication with the players.
"I usually start with studying the piece," Urbanski said. "Studying the notes is not a very long process, but understanding and digesting the artistic content is."
He saves time by inserting his comments onto the sheet music of each player.
"My wife helps me," he said. "It took us most of the summer to do the parts of the 'Romeo and Juliet.'"
The Urbanskis met in high school, and Joanna's presence has continued to be essential to her husband.
"Everyone knows that I don't do concerts if my wife is not joining me. Most of the orchestras already know to buy two airfares and a double room."
"A few years ago, there was nothing more important for me than my career. I was so stupid. I was really so stupid," said Urbanski, noting that he's shifted his attitude to appreciate the little, everyday things of life more than his career. "I love to conduct but I also want to live."
Prelude to Indy
How Spencer and her company found Urbanski is typical of his style: Do the work, focus on the music, and let the attention follow.
He first came to the agency's attention almost simultaneously through multiple channels. A conductor client served on a jury when he was in a competition in Prague in 2007, another source saw him in a gala concert on German TV, and a trusted promoter saw him perform and said he was a fantastic conductor.
"Those three things aligned and we had to take a look," Spencer said.
In search of fresh talent, the ISO booked Urbanski as a guest conductor for a weekend in the spring of 2010 (longtime Nuvo classical music critic Tom Aldridge found "too steady a tempo" in Urbanski's leading of Dvorak's "New World" symphony). Urbanski returned a few months later to open the Symphony on the Prairie season. With both indoor and outdoor ISO experience under his belt, he was hired.
But who was he?
"To be honest, he was completely unknown to me before [ISO CEO Gary Ginstling] came to New York to introduce him to people," said Jesse Rosen, CEO of the League of American Orchestras, which ties together 800 member orchestras from around the country. "For many of us, he came out of the blue."
That's not unusual, though, Rosen clarified. "Nobody ever heard of Esa-Pekka Salonen before he took over the L.A Philharmonic, either."
Salonen, who spent 17 years as music director for the Los Angeles symphony, now holds positions with London's Philharmonia Orchestra and the New York Philharmonic and is a frequent guest conductor of top orchestras around the world.
With Urbanski now receiving multi-continent attention, the ISO would like to keep him as long as it can. Urbanski renewed his contract in 2013—signing a deal that will take him through the 2017-2018 season.
But nothing is permanent in the classical music business.
"Fair to say that all of our goals is to make it last as long as possible," Ginstling said. "You see some music directors well into their second decade," he said, optimistically, before adding, "and there are other places where it doesn't last nearly as long."
ISO fans have seen a mix, with longtimers Izler Solomon (1956-1975) and Raymond Leppard (1987-2001) at one end in contrast to the shorter run of Mario Venzago (2002-2009).
"The Indianapolis Symphony would be crazy to blow the opportunity Urbanski presents," wrote Swed, the Los Angeles music critic. "If it does, someone else will snap him up in a second. I would if I ran an orchestra."
Practice, practice
In his first seasons with the ISO—and before that, with other orchestras—Urbanski insisted on hearing from the players an exact reproduction of the mental vision he brought with him into the rehearsal room. With no variation.
Now, he recalls those days as if scolding an uptight younger sibling. He's taught himself to live a little, even on stage.
"I love music. Well, I've always loved the music, but my interpretations were … square," he said. "There was no heartbeat. I did not allow myself to go crazy during a concert because I was always trying to present what I imagined the composition would sound like. I'd create my ideal interpretation and then go to the orchestra and make it happen, which is hard."
"I'm much more spontaneous now," he said, "much more interactive with the orchestra. And I love it. To me, this is what makes the live performance on stage so interesting—there is an interaction between everyone."
Zachary De Pue, ISO's first violinist and concertmaster, said Urbanski has "become more and more comfortable" being ISO's conductor.
"There could be many differing opinions on an orchestra stage at any given time. However, Krzysztof remains steadfast on making us better at all times," De Pue said. "One thing has never faltered with him: He's always prepared and excited to be making music. Always curious, always open for discussion."
Indeed, Urbanski said he's moving from dictatorship to, well, not quite democracy.
"Of course, there is a conductor who rules and everyone needs to listen. But, well, I did this kind of conducting and I thought this is the only way and there is no room for democracy in a symphony orchestra. But not necessarily. Sometimes I've found—this is one of my latest discoveries—to actually listen and see what the orchestra has to offer."
Showtime
The conductor's stand has been removed from the Hilbert Circle Theatre stage, the audience has settled in, and it's showtime at the opening-night gala.
In the wings, the cue comes to begin. Urbanski and Ginstling do a playful bit of "You first—No, you first," then strut out to center stage to strong, appreciative applause.
Joanna Urbanski travels with her husband to all his concerts. (IBJ file photo)
When the applause fades and it's time to speak—something Urbanski doesn't usually do at a classical concert—he blanks. Just for a few moments—barely noticeable for the audience. But, for him, it's an eternity.
He manages to find the words and the audience is charmed. But back in the wings, he shakes his head.
"I hate this stuff so much when I have to talk on stage," he says.
"Say it in Polish," suggests Ginstling.
But the frustration holds only for a moment. There's work to do. What matters, of course, is the universal language.
Urbanski knows that.
He takes a breath, then, calm and confident again, returns to the stage to ignite the music.•
Please enable JavaScript to view this content.