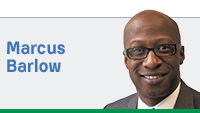 Greg Porter is my state representative. I respect the work he's done in the community and I respect where I know he's coming from when he proposes that Indiana adopt strict hate crime legislation in the coming session.
That being said, when I watch civil rights leaders call for hate crimes legislation, I don't feel pride or respect, but confusion, because hate crimes legislation doesn't bring us closer to the goal of equality, but rather takes us further from it.
When I was in grade school, every year we would recite Dr. Martin Luther King Jr.'s "I Have a Dream" speech on MLK Day. My favorite part of that speech as a child, and today as an adult, is:
"I have a dream that my four little children will one day live in a nation where they will not be judged by the color of their skin but by the content of their character."
The promise of the civil rights movement was: Judge us, not by the color of our skin, but by the content of our character.
As an African-American student in honors and advanced placement classes, I was often the only face of color in many of my courses. For this, I sometimes had to come face-to-face with the subtle racism of low expectations. I was often judged before I ever said a word, or ever took a test. I knew then that, if I could contribute anything to the next generation, I could at least do well in my courses so that the next in line wouldn't have to suffer from the same stereotype and could succeed or fail of his or her own volition.
This is justice. The idea that whether or not I'm a good or bad student, whether or not I'm a success or failure won't depend on the family I was born into, but on my own accomplishments.
Right now, the left is fighting a political/culture battle where it demands economic "equality" in the form of taxing the rich at a greater rate in order to give to the poor because, in their minds, the rich are given undeserved advantages and that's not the American ideal of justice.
Why is it, then, that these same liberals want to enact legislation that will punish perpetrators, not only for the crimes they committed, but also for a governmental interpretation of why they did it?
Don't we want to live in a society where one white man killing another is as bad as a white man killing a black man, or a black man killing a white man? If we are to truly work toward justice and equality, should race or gender or sexual orientation matter when determining the punishment of crime?
I understand where the proponents of hate crimes legislation are coming from, but we cannot repay centuries of injustice with more injustice.
If I am ever the victim of a crime, I want the perpetrators to be punished because they committed a crime against an American citizen, period. I can't, with a clear conscience, demand that the legal system not unduly oppress me because I'm black, while at the same time punish crimes against me differently for the same reason.•
__________
Barlow, a Republican strategist, was a press secretary for U.S. Rep. Chris Chocola and a spokesman for Mayor Greg Ballard and the state Family and Social Services Administration. Send comments to ibjedit@ibj.com.
Please enable JavaScript to view this content.