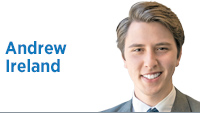 Every person who seeks our nation's highest office must embrace the notion that we are all Americans first—not partisan actors. Candidates might indeed live and operate in a sphere where politics defines and influences most everything they do, but the same is not true for the majority of Americans.
Unfortunately, one candidate in particular has done quite the opposite—Democratic front-runner Hillary Clinton.
In late August, Clinton said, "Now, extreme views about women, we expect that from some of the terrorist groups, we expect that from people who don't want to live in the modern world, but it's a little hard to take from Republicans who want to be the president of the United States."
Leaving little room for interpretation, she compared the views of Republican presidential contenders to those of terrorist groups. Even through a hyperpartisan lens, these comments are immensely hyperbolic and downright shameful.
Was there a retraction, apology or even a notable attempt to walk back these comments? Of course not. This has become a near-typical refrain for the Clinton camp—demonize your opposition and attack a caricature in hopes of capturing sympathy from the far left. Sympathy that as of late has instead largely been seized on by self-avowed socialist Sen. Bernie Sanders.
No one-time slip, just last month Clinton took an opportunity to again paint Republicans as not simply other political actors who disagree on policy but instead personal enemies. In the first Democratic debate, Clinton remarked on the enemies she is most proud to have made saying, "Well, in addition to the NRA, the health insurance companies, the drug companies, the Iranians. … Probably the Republicans."
For those who are interested, Merriam-Webster first defines enemy as "someone who hates another." Even with the worst of gaffes, pundits would be hard-pressed to find another presidential candidate who would chalk up the opposing party as something worthy of hate.
Clinton's Saul Alinsky-inspired rhetoric crosses a line. Criticizing your opposition is fair game, but denigrating a major segment of the American populace by comparing their views to those of ISIS and portraying them as your enemy is unacceptable.
If Clinton is looking for an example of a better approach, she should look no further than the presidency of her husband. President Clinton fought Republicans tooth and nail during the Contract with America years—but he never once painted Republicans as a mortal enemy. No comments tying radical Islamist groups to his political opposition. No attempts to question the patriotism of those who opposed him.
In fact, in her opening statement to the Select Committee on Benghazi last month, Secretary Clinton outlined exactly the sort of approach necessary for anyone who seeks to serve our nation.
"I know it's possible to find common ground because I have done it. We should debate on the basis of fact, not fear. We should resist denigrating the patriotism or loyalty of those with whom we disagree," Clinton said. Given her rhetoric on the campaign trail, however, this seems as nothing more than lip service.
Clinton's statements are telling that she is not of the right moral character to lead. Clinton is not, never has been and likely never will be that leader.
America needs real leadership in the White House and beyond. Leadership that will work to unite people around common causes and empower individuals to best animate their God-given abilities. Any candidate unwilling or unable to do so is unfit to serve our great nation.•
__________
Ireland is a college Republican at Indiana University. Send comments on this column to ibjedit@ibj.com.
Please enable JavaScript to view this content.