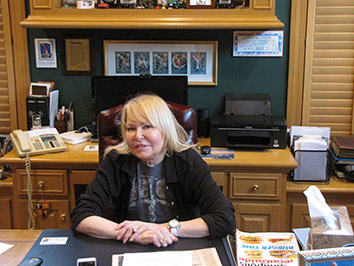 Nancy Clifford Irsay, the widow of former Indianapolis Colts owner Robert Irsay, has died at age 65.
Swartz Family Community Mortuary and Memorial Center in Franklin announced the news Friday in an online obituary.
The Carmel resident, philanthropist and former marketing executive died Saturday, the obituary said. A cause of death was not listed.
Nancy Irsay built a career in advertising and marketing in her hometown of Chicago before moving to Indianapolis in 1984 to become director of communications and design for local retailer Paul Harris Co.  
She returned to Chicago in 1987 to launch retail marketing firm Clifford & Associates before moving back to central Indiana to marry Bob Irsay in 1989. They remained married until his death in 1997 at age 73.
During her marriage, Irsay turned her attention to philanthropic pursuits and running an equestrian business.
The Irsays bought 132 acres in Carmel and opened an equestrian facility called Sweet Charity Farm in 1994. The farm hosted dozens of high-level horse shows and other events annually.  
After Bob Irsay's death, Nancy reached a court settlement with Jim Irsay, her husband's son by his first marriage, allowing her to retain ownership of the horse farm and a 40-acre estate in Carmel in exchange for giving up financial interest and affiliation with the Colts. She sold Sweet Charity Farm in 2005.
Irsay also owned and operated the Robert Irsay Pavilion, which was used by charities and community groups to hold events and fundraisers.
The facility at 116th Street and Ditch Road hosted dozens of events each year, typically at cut-rate rental fees that allowed not-for-profits to meet their budgets.
Irsay put the 10,000-square-foot facility and her adjacent home up for sale in 2013.
In 1998, Irsay ran the Indiana House of Representatives in District 39 but lost in the Republican primary to Gerald Torr.
From 2004-11, Irsay put on an annual event for women called Nancy's Retreat. The getaway typically combined a tropical vacation with activities, guest speakers and life advice.  Fees for the getaway included a $100 charitable donation.
Irsay studied graphic communications at Northern Illinois University and marketing at Northwestern University. She graduated from the British Central School of Art and Design in London in 1974.
Irsay will be interred at Crown Hill Cemetery.
Please enable JavaScript to view this content.