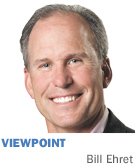 We've seen a lot of headlines about companies bringing new jobs to the Hendricks County area. It's easy to see why. With a great location, a pro-business mentality and room for growth, the area has plenty to offer.

However, if the metro area doesn't come up with a better way to get workers to jobs, growth in Hendricks and other counties surrounding Indy could dry up. As a result, I'm calling on employers, property owners and municipalities to collaborate on a solution. Otherwise, our area might miss out on future jobs—and even lose existing jobs.

Plainfield and Whitestown have done a great job attracting big employers. But, historically, almost half of all the workers in Hendricks County come from outside the county. So, the more jobs the area attracts, the farther its workers will have to travel to get to the jobs. Without an inter-county transit system, that's a problem.

Currently, the Central Indiana Regional Transportation Authority, the towns of Plainfield and Whitestown, IndyGo and a number of public-private partners operate three shuttle services from the Marion County line to employers in Hendricks and Boone counties. However, these shuttles are supported in part by a three-year federal grant. We need a long-term solution.

Right now, Hendricks County alone has about 1,400 job openings. Many of these jobs pay in the range of $10 to $16 an hour. To get an idea of how that pay level works for someone who has to travel a distance to get to work, I played around with some numbers.

Consider a worker who's making $12 an hour. That's about $2,000 a month. Now, take out taxes, and factor in rent or a house payment, food, utilities, health care and other basic costs. Now, since most of these workers have to have a car to get to work, factor in the cost of owning and operating a car—let's say about $200 a month for a car payment, $80 for insurance, plus $30 a week for gas. In no time at all, you have virtually no money left.

As a result, a job that pays less but is more accessible looks pretty good.

Employers already see this problem. I recently talked with one area business owner who said his employee turnover is three times what it should be, with much of it attributed to workers' transportation issues. This is not what you want to hear from employers in our metro area.

I see a few ways we can respond to this challenge.

First, we start thinking of transit as a necessary element of infrastructure. For too long, we've thought of it as something other than infrastructure—as a luxury. No more. We have to accept that it's a part of the multifaceted process for getting workers to work and, therefore, include it in transportation spending, right along with roads.

Second, developers and property managers work with employers to help pay for transit to their commercial parks. Again, they can think of it as infrastructure, and include a fee just as they do for snow removal, retention ponds, etc.

Third, municipalities commit tax revenue to transit. They could capture a small percentage of what they already collect and commit it to transportation. A relatively small amount could make a big difference—especially if it's combined with a small fee developers could charge employers.

If you look at that solution closely, you'll see it involves a variety of stakeholders: the business and developers pay part of the cost, as do taxpayers and municipalities. In other words, this is not a cost we put on any single group. We all must work together to make transit a reliable part of our economic development scenario. If we do, we'll all benefit. If we don't, we all could lose.•

__________

Ehret, principal and managing director of Avison Young, is a CIRTA board member.

EDITOR'S NOTE: Peter Rusthoven has suspended his every-other-week column because he is a candidate for the Indiana Supreme Court vacancy.