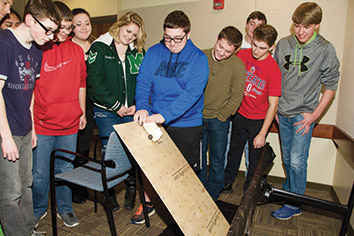 Matthew McCain discovered his passion for mechanical engineering among other high school students at Raytheon, an Indianapolis defense-contracting firm.
The hands-on electronics projects he worked on there, through a Boy Scouts of America Exploring program, stretched his ideas of what was possible—and drew him back to the company after college for his first full-time job.
And that's just what Raytheon—and dozens of other companies across central Indiana—are seeking to do with programs aimed at middle- and high-school students: Develop a pool of talented kids who are interested in science, technology, engineering and math to fill the growing number of jobs for which such skills are necessary.

McCain
Now McCain runs Raytheon's Exploring post, which has inspired at least 25 others to come back to the company as full-timers. The students have done some impressive work there since the program formed in 1961, namely contribute a fiber-optics project that launched on Space Shuttle Endeavour in 1992.
Today, McCain is helping the explorers learn programming and electronic circuit design with Arduino boards, which can be coded to make robots, talking clocks, garage door controllers and seemingly endless electronics.
"It's basically come full circle," McCain said. "I'm educating kids who may be interested in being engineers."

The Exploring program might have been unique for decades, but corporations are waking up to this grow-your-own approach to workforce development. Indiana employers say they have struggled to find enough qualified workers across the state to fill their jobs, which means they're often recruiting employees from other states or even other countries.
And a new push for STEM education—an acronym that stands for science, technology, engineering and math—has sparked new interest in programs like Boy Scouts Exploring.
"Right now, we need young engineers and technically minded people more than ever," McCain said. "The future is only growing more and more technical and complex. Making young people excited about these technical fields in math and science is important."
Many of Indianapolis' private and not-for-profit companies—big names that include Eli Lilly and Co. and Riley Hospital for Children—run Exploring posts to help high school students get a taste of careers in health care, computer science, architecture, pharmacy and dozens of other options.
Other companies spearhead their own programs. Rolls-Royce Corp. runs a high school internship program in Indianapolis and supports middle school robotics competitions.
The company is part of Change the Equation, a national coalition of Fortune 500 companies dedicated to increasing the number of qualified STEM majors and teachers that formed in response to a call in 2010 from President Barack Obama.
Obama asked the nation's educators and employers to develop and retain 100,000 STEM teachers and graduate an additional 1 million students with STEM majors over the next decade to help address what the U.S. Department of Education calls an "inadequate pipeline."
"It's a national movement, no doubt," said Reginald McGregor, a Rolls-Royce mechanical engineer who oversees STEM outreach. "All the large companies, and some medium-sized companies, are engaged in this effort. We don't have the right teachers teaching science and math. It's hard for us to address the shortage of teachers. There's got to be a holistic approach to educating young people so there's an effective STEM workforce."
But McGregor said the way companies support that mission has changed. In years past, he said, it was more common for schools to request funding for a project and a company would send a check and leave it at that.
"We found out that's not as effective," McGregor said. "Even when we send a check, we want to send professionals who can talk about STEM careers. It's more now about engagement versus sponsorships and funding."
Now the company sees high school internship programs as the most effective and efficient way to reach aspiring STEM professionals.
Companies are motivated to get involved in youth STEM programs for reasons "ranging from altruism to selfishness," said Russ Williams, chief operating officer at Riley Hospital for Children.
"Riley sees itself as being responsible for the health and wellness of Hoosier kids," Williams said. "Education is a big part of wellness. Outside of being able to help … I hope I'm building my future workforce here at Riley."
Competition is another factor. KAR Auction Services recently started offering a computer science Exploring post for high school students.
"It's not bad to have a competitive advantage considering how competitive the IT market is around here," said Brian Osborne, an IT manager for the company who also started out as an explorer back in high school. "If we can show a child how interesting it is, we would hope [we're] the first [place] they'd think of to work."
Officials at other companies, including Eli Lilly, say they believe an equally important goal of early STEM programs is providing exposure to help students make more informed decisions.
"We're equally successful if they think they are interested and go through the program and find out, 'Wow, that's not for me,'" said David Alms, a Lilly consultant engineer. "It is not Lilly's goal to try to recruit people through this program, but we do have an interest in trying to make the community around us better. If the person gets an engineering degree, great."
On a recent weeknight at Eli Lilly's high school engineering program, students were given a fictional budget of $100 to buy supplies to build a car that would be safe enough to transport an egg down a ramp without breaking it.
Jace Mott, a sophomore at Plainfield High School, did the test run. Success.
Jace said he joined the program after learning about it at school because he wants to be "some sort of engineer" one day. He said he wanted to know what sorts of projects he'd encounter in the field.
But it's proved more challenging than he thought—in a good way.
"I imagined putting together LEGOs, but we're talking about schematics and safety and process," Jace said. "It opens up a whole new world that I didn't know was there."•
Please enable JavaScript to view this content.