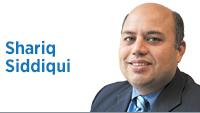 America is weaker because our leaders are busier fighting elections than keeping us safe. The biggest example of this failure is failing to have an honest conversation about our Middle East policy.
The Democratic myth: President Obama has a comprehensive Middle East policy. Just as popular: Obama killed Osama Bin Laden, so you needn't worry.
The Republican myth: Waving a big stick will assert American power and make all cower before us. Just as popular: Obama loves Muslim radicals more than he does America.
Both are simplistic red meat to keep the party loyalists in line and hopefully fool the remaining independents. Fear does the rest.
All the while, the rest of the world—especially our opponents—laughs.
Both sides have failed to communicate that times have changed. Such is the nuance after the Cold War, 9/11 and Gulf War II.
Our post-World War II foreign policy has been predicated on stability. We didn't care about the character of the rulers as long as the regime (democratic or not) created stability for American economic and security interests.
There have been exceptions—supporting the Taliban and Bin Laden in defeating the Soviet Union in Afghanistan, defeating Saddam Hussain and putting Iraq under sanctions after he invaded Kuwait, removing Saddam and the entire regime in Iraq after Gulf War II in the neoconservative hopes of exporting "American values."
Today, there are no clear answers to how we deal with terrorism, ISIS and rising extremism.
The situation is further complicated because the geopolitical actors have changed since the Cold War. Russia remains in the mix. But now Iran, Turkey, Saudi Arabia and the Gulf states all want to assert their power.
Religious differences also shape how these geopolitical alliances assert themselves—Shiite (Iran, Syria and our allies in Iraq) versus Sunni (Saudi Arabia, Turkey, Qatar and the other Gulf states).
To defeat ISIS we must embrace Iran and Bashar Assad's Syria. To embrace these regimes would put us at odds with our allies (Saudi Arabia, Qatar, United Arab Emirates, Turkey). Not an easy task, as Israel and Saudi Arabia remain our key allies in the region. Embracing Iran and Syria hurts Israel and Saudi Arabia.
John McCain and Lindsey Graham are leading the Republican push for providing arms to the Syrian rebels to lead to a regime change in Syria.
But did arming the Taliban serve us well in the long run? Is Syria the new Afghanistan? With Russia highly engaged, and having learned from its mistakes and bolstered by support to its cause by Iran, victory doesn't seem assured.
Unfortunately, the only way we can have a comprehensive and successful foreign policy in the Middle East is by having an honest national conversation.
We cannot afford to not include views like Sen. Rand Paul's isolationism and Rep. Tulis Gabbard's support for totalitarian stability. I don't endorse their ideas. But our other leaders on the left, right or center only have an answer for one another, political rallies and debates.
I have lived on four continents and traveled extensively, and I know the red meat dished out to us voters simply does not align with the reality of the world.
It is quite possible to achieve victory in the long run, but we might have to admit in the short run that we have no answers. Not having an answer is not a sign of weakness but of strength and honesty.•
__________
Siddiqui is an attorney, has a doctorate from the Lilly Family School of Philanthropy at IU and leads the Association for Research on Nonprofit Organizations and Voluntary Action. Send comments on this column to ibjedit@ibj.com.
Please enable JavaScript to view this content.