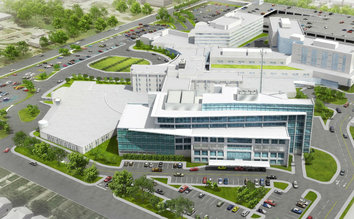 The state of Indiana will construct a new $120 million mental health hospital on the campus of Community East Hospital by 2018.
The 159-bed facility, to be called the Indiana Neuro Diagnostic Institute, will eventually replace the Larue Carter mental hospital, located in Indianapolis on Cold Spring Road, which the state plans to phase out of operation.
The state expects construction to begin in April and to finish in September 2018. It will pay for construction by selling 20-year taxable bonds.
When open, the Neuro-Diagnostic Institute could serve 1,500 patients per year with such conditions as acute and chronic mental illness, chronic addictions, intellectual and developmental disabilities, traumatic brain injury and degenerative illnesses such as Alzheimer's disease.
By locating the facility next to Community Hospital East, the state hopes the patients can also have their non-mental health needs addressed. Patients with mental illness often fare worse in other areas, particularly with such chronic diseases as diabetes.
"As the largest provider of mental health services in Indiana, we know firsthand the desperate need that exists for these services," said Bryan Mills, CEO of Community Health Network, in a statement.
The state said it will be the flagship hospital of its network of state-operated mental health facilities.
"This new institute is another part of our strong commitment to improving health care in Indiana and to caring for our most vulnerable fellow citizens, including those living in poverty, with disabilities and impaired from psychiatric illnesses, brain diseases and addictions," Gov. Mike Pence said in a prepared statement.
Please enable JavaScript to view this content.