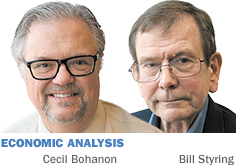 By now, we've all hung our cheerful Christmas lights that illuminate the season's long nights and short days. And there is good news. New LED lights use less energy, 70 percent or so less than the old incandescent bulbs. At 10 cents per kwh, a 50-bulb string of the old bulbs lit 12 hours per day for three weeks uses roughly $10 worth of electricity. Equivalent lumens from LEDs cost around $2.50.
Every effort is made to convince us to embrace the new LEDs. Google "saving on Christmas lights" and you'll get a deluge of governmental, educational and commercial sites touting the newer bulbs. To sway the environmentally minded, many also point out that less energy equals less carbon.
Well, probably, but not necessarily. (To keep it simple, we'll look just at energy cost and avoid the complication that LEDs cost four to five times more upfront but last much longer.) Any self-respecting intermediate microeconomics student should know that, if the cost of burning Christmas lights goes down, folks will indulge in consuming more Christmas lighting. At a cost of $2.50 for the season for every 50 bulbs, why not triple up and get 150 bulbs? And while we're at it, why not really add to the season's spirit and leave them on 24/7? Such a response would make the energy bill $15 instead of $10. The advent of LEDs would actually increase energy use 50 percent.
In economist lingo, if the elasticity of demand for Christmas lighting with respect to energy is greater than one, the advent of LED technology actually increases energy use. If the elasticity is less than one, there will be energy savings, but not the 70 percent that might be calculated if the only response were to be generating the same amount of light with LEDs instead of old bulbs.
There are two lessons here. The specific lesson: If your objective is to reduce energy consumption, simply mandating energy-efficiency might be a risky policy choice. Price elasticity could work against you. The second lesson is from 19th century French economist Frederic Bastiat and is more general. Always look beyond the obvious effects of any policy. Good analysis looks for unintended consequences. Look for what will happen as a result of the obvious first order happening. People change behavior when incentives change.
Never expect the obvious to be all that happens. Merry Christmas!•
__________
Bohanon is a professor of economics at Ball State University. Styring is an economist and independent researcher. Both also blog at INforefront.com. Send comments to ibjedit@ibj.com.
Please enable JavaScript to view this content.