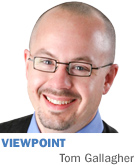 One of my most enduring childhood memories is traveling into downtown Columbus, Ohio, with my great-grandmother during the holidays. Our destination? Lazarus, the marquee location for decorated windows. Hot chocolate in hand, we traversed the blocks, plump with holiday swag. On those sidewalks, without understanding it at the time, I was engaged in what is most vital about urban places.
Imagine, roughly 100 years earlier, Indianapolis in 1872. The Victorian Era was in full swing and fashion, etiquette and societal position were the preoccupation of the day. New technologies were altering everything about daily life. Though the first skyscraper was still 12 years away, steel was freeing buildings of the constraints of a masonry structure. Lacy yet sturdy cast-iron facades granted large plate-glass windows, bringing light to the interior and a clear view of goods from the street.
It was then that Lyman S. Ayres transformed his dry-goods store and became part of a phenomenon. This marvel, the department store, forever modified retail. As Americans gained more leisure time, shopping became one of their favorite pastimes.
The department store reformed the image of downtowns. For a century, they were synonymous with their cities: Macy's in New York, Marshall Field's in Chicago, and L.S. Ayres in Indy. However, there is something often overlooked: Department stores were instrumental in the alteration of the most ubiquitous of public spaces—our streets.
Of course, streets existed in cities long before cars, but before the turn of the 20th century, they were not hospitable places. With the advent of the department store, the street became the place to see and be seen. No longer just a place of business or facility, the street was a place of shared experience, of community, with people never before met or likely seen again.
In 1947, with a war-weary economy, the L.S. Ayres holiday catalog was a bit feeble. In hopes of lifting spirits and filling pages, the store commissioned art for those blank pages. Colorful cherubs flitting among the merchandise. The retailer commissioned a companion work, a bronze cherub that sat upon the clock on the corner of Meridian and Washington streets for the first time that Thanksgiving. So, for nearly 70 years, the cherub has appeared upon the clock, as if by holiday magic. Then, having faithfully observed the season, he disappears again on Christmas Eve. Now a ritual that has outlasted its founding institution, his presence is more than a decoration; it is a celebration of street life.
Sadly, the same phenomenon that called us to downtowns had by mid-century pulled us away. Department stores became anchors in malls, and we traded our shared public realm for privately owned interior spaces. Now in decline, the department store is not likely to be a factor in our urban future. We have almost completed our retail retreat, often shopping from the most private of spaces, our homes.
Something interesting is stirring, however. Whether it is nostalgia or a desire for human contact, we are rediscovering urban areas. It is my hope that we are also rediscovering the real significance of urban places. Fundamentally, not to be weighed by only such basal characteristics as density, scale or height, they are our most urbane locales and, in them, our streets are our most democratic of public spaces.
They are where we come together to share a common experience, maybe even a shared identity. They are places where we meet under a clock, below the watchful eyes of a cherub, and share a hot chocolate with strangers who become friends for a brief moment. Happy Holidays.•
__________
Gallagher is an urban designer with Ratio Architects.
Please enable JavaScript to view this content.