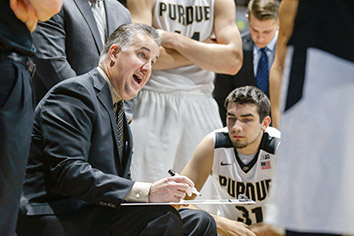 WEST LAFAYETTE—Welcome to Crisis Management 101. Today's lecturer is Matt Painter, coach of Purdue basketball. Revitalized, restored and on-a-roll Purdue basketball.    
The low times of just two years ago are ancient history. The lasting image of those days is Painter standing in a hallway after the Boilermakers were summarily dismissed from the Big Ten Tournament, expressing concerns about his program, his players' commitment, his ability to reach them. He was a grim man standing in a cellar. Last place in the conference. No. 12 in a 12-team league. And you think Tom Crean has had trouble?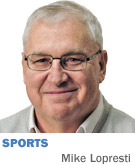 Flash forward to this weekend. With the Crossroads Classic game against Butler yet to play, the 11-0 Boilermakers were starting to be noticed nationally as the contenders they are. A change in culture, they are calling it around here. A transformation in mood, karma, horizons.
"We got Purdue back on the map," is the way senior Rapheal Davis put it.
How did that happen? Professor Painter, the floor is yours.
"Normally, when you get into that predicament as coach in today's society, you lose your job. So we were very fortunate we were able to reshuffle the deck."        
Underline that, class. Coaches have been guillotined for less. But back to Painter.
"It was my fault. Anytime you struggle as a coach, you've got to admit that to your fans, you have to admit that to your players. That's the start of getting better. Then you've got to figure out who wants to stay on the ship and who doesn't. I think that was the start for us; I think that was the start for me. This isn't a school district. I recruited guys. I did it. That was the No. 1 thing for us, trying to let them know what their commitment needs to be.
"One thing I try to tell people, 'If you don't love basketball, don't come to Purdue. If you don't love it and it's not your passion, don't come, because it's my passion. This is what I do. It's my deal.'"
His deal had been pretty good at Purdue until 2012, when consecutive losing seasons struck. Suddenly, no NCAA tournaments, and red ink on the record. Suddenly, Matt Painter was needing to use a different set of coaching muscles, trying to stem a retreat. One thing he knew he had to do was convince people things weren't as bad as they seemed.
"We had good pieces there. This is always a statement I make, but it's really true: 'You do good things when you lose and bad things when you win. Make sure you're aware of those things.'"
The pieces got put back together. Now here he is, in his 11th year with the Boilermakers, and is probably a stronger coach for having faced the ordeal.
"No question, anytime you can handle adversity and weather a storm, you have to learn from it. This is a very cyclical business, in terms of teams that roll over and coaches that roll over and even presidents who roll over."
Purdue has seen two head coaches in 36 seasons—Painter and Gene Keady. We've had more popes than that since 1980. Indiana has gone through five coaches in the same span; Butler, seven; the Pacers, 12. So Painter figured to have some time, but things had to get better.
They have.
"Now I feel like we have the right guys. I'm not fighting anybody on our team. There's not a lot of coaches in America who can say that."
Here's a trivia question. What's 14 feet, 2 inches of trouble? Anybody?     
The answer: Purdue's two-headed T-Rex at center, a real pain in the paint for opponents. Good ol' Isaac A.J. HaasHammons. One minute, he's No. 44, a sophomore from Alabama; the next he's No. 20, a senior from Gary. One minute, a skyhook; the next, a dunk. At last count, HaasHammons was accounting for 25 points and 13 rebounds per game.
It's one part A.J. Hammons, coming off an all-Big-Ten junior season, but landing in the soup for unstated infractions, and missing the first two games. He has sometimes been a handful for Painter to reach.
"A.J. stays on my good side because his heart is in the right spot," Painter said. "A.J.'s an unselfish person. He wants Purdue to win, he'll pass the basketball, he'll do the little things. That part right there makes for a good teammate."
It's another part Isaac Haas, whose legal first name has become Much Improved. So he's started, and Hammons has relieved—the Purdue tag team.
How many coaches can look at the menu and order up a choice of capable 7-footers? Painter said they'll split time as long as both stay efficient, but he reserves the right to go one way or the other if either separates himself. It'll be something to watch as games with Butler and Vanderbilt and Wisconsin really begin to let us know where Purdue might be going.
At some places, Painter's seat would have been microwaved a couple of seasons ago, but he works at a school not known for an itchy trigger finger. Darrell Hazell will be back, and he's 6-30. In the SEC, he would have been vaporized by now, buyout and all. Painter mentioned how long Athletic Director Morgan Burke has been on campus, how long Joe Tiller and Keady were there.
"Purdue's been pretty special in that. We have a place that has some old-school values. I think that's pretty cool. I'm going to think it's cool, because I want to be one of those guys."
With that, our speaker needs to get back to the revival. Class dismissed.•
__________
Lopresti is a lifelong resident of Richmond and a graduate of Ball State University. He was a columnist for USA Today and Gannett newspapers for 31 years. His column appears weekly. He can be reached at mlopresti@ibj.com.
Please enable JavaScript to view this content.