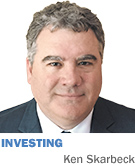 As the year comes to a close and holiday shoppers fill the stores to snap up sale-priced items, sharp investors should also be on the lookout for bargains. Toward the end of the year, many investors "blow out" securities that have performed poorly in their portfolios to realize tax losses and offset the year's taxable gains. In some cases, the tax-loss selling is indiscriminate to the point where prices of solid companies fall well below intrinsic values, allowing nimble contrarian investors to snap them up cheap.

The worst-performing asset class in 2015 was the stocks and bonds of commodity companies. Oil continued its 18-month slide from a high of $105 in June 2014 to around $35 today. The oil-price collapse has idled large amounts of oil-field equipment, as rig counts have dropped from a high of 1,600 units in 2014 to about 525 today, according to oil-field services firm Baker Hughes. So not only has the price of oil stocks fallen as company risk profiles have worsened, but their bond prices have also lost considerable value as much of this equipment was debt-financed. In addition to oil companies, natural gas, metal, chemical and agricultural companies have all seen their stocks and bonds slump in the commodity rout.

Spending time to research and analyze these sectors will likely uncover some attractive stocks and bonds selling at bargain prices. While the near term doesn't appear particularly bright for these businesses, a long-term investor who can identify well-managed companies with balance sheets able to weather the storm will enjoy attractive long-term investment results.

While conducting research, investors will need to pay close attention to the percentage of debt to equity on the company's balance sheet, the interest cost of the debt relative to the firm's cash flow, and when the debt maturities come due. Even when a company is being strangled by its debt load, investors who are experts in "distressed investing" may find opportunities. These investors are versed in the nuances of corporate reorganizations and the bankruptcy process.

The marketplace where investors can purchase the bonds of companies with less than stellar credit is the "high-yield bond market," also known by its more descriptive name, "junk bonds." This market has been under significant pressure lately as liquidity in junk bonds has dried up.

The junk-bond market was particularly rattled earlier this month when the Third Avenue Focused Credit Fund barred withdrawals from investors while it attempts to liquidate its holdings and raise cash. Investors in the $790 million fund might not receive their money for months as the fund is forced to sell its bonds into a stressed and illiquid market.

Of course, these types of market dislocations spell opportunity for seasoned buyers of distressed bonds and beaten-down stocks. Value investor Howard Marks of publicly traded Oaktree Capital has raised $20 billion this year from investors to scoop up undervalued assets. Bond maven Bill Gross recently commented that the junk-bond sell-off has made this a "perfect time" to take advantage of an "illiquidity discount" in closed-end funds.

A smart investor once said, "There are no bad securities, just bad prices." In other words, even distressed assets can make attractive investments—if the price is right.•

__________

Skarbeck is managing partner of Indianapolis-based Aldebaran Capital LLC, a money-management firm. His column appears every other week. Views expressed are his own. He can be reached at 818-7827 or ken@aldebarancapital.com.