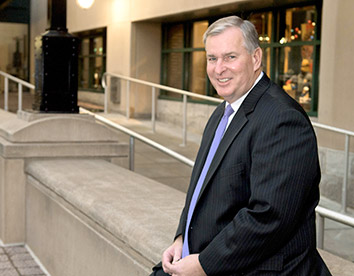 Mayor Greg Ballard was caught in a mob.
Cameras flashed, football fans cheered, and he knew his mission to make a quick trek from his office to the bakery for a coffee roll had been thwarted by Super Bowl hysteria. It was February 2012 and Indianapolis was drowning in crowds, fanfare and a reverberating downtown energy.
In an hour on foot, he was only halfway to his destination. So he finally stopped trying to move through the crowd, stood still, and just took it all in.
"The last half hour, I never moved," Ballard said in an interview with IBJ. "The crowd was flowing by me. People would come up to me and literally told me, 'I never saw my city like this before. I didn't know we could do this sort of thing.' People were so happy."
Ballard reflects on this moment as one of the more joyous of his two terms as mayor of Indianapolis, a period that comes to an end Dec. 31. The Republican is leaving office after opting not to seek a third term and hearing a promise from Democratic Mayor-elect Joe Hogsett that he won't "roll back or de-fund or undo anything" Ballard championed.
Most city leaders didn't expect Ballard to be the man in that Super Bowl mob. Ballard didn't expect it, either.

In his first-ever run for public office in 2007, the virtually unknown, retired Marine lieutenant colonel won 50 percent of the vote, besting incumbent Bart Peterson's 47 percent.
Political observers said Ballard had simply come along at the right time—in the midst of political upheaval caused by a property reassessment that boosted homeowners' bills. Ballard didn't so much win, observers said, as Peterson lost. In fact, it was the first time in 40 years that an incumbent Indianapolis mayor lost a bid for re-election.
And suddenly, Ballard was mayor.
It took a while for the city to rally around him.
Robert Vane, a Republican strategist who served as the mayor's communications director during his first term, said he remembers "receiving emails from people I knew who were convinced Greg Ballard was going to undo all the progress Indianapolis had made over the past several decades."
"Because he was absolutely unknown to the political class and to a significant number of civic leaders, there was just no way to know—if you hadn't paid attention to the campaign—what his priorities would be," Vane said. "They turned out in every instance to be the right priorities."
Ballard realized quickly he needed to quell people's fears by shaking their hands and learning about their organizations. He said it took him at least two years in the job before "people figured out we were trying to figure out a way to say 'yes' as opposed to saying 'no' and being ideological."
"It was a difficult mix of understanding where we were in the credibility gap and having to be seen as the mayor," Ballard said. "People said, 'Who is this guy?' and, 'He's going to find out it's different here.' That was all comical to me. We wanted to try to do the best thing for the future of Indianapolis."
 

Morris
Pacers Sports and Entertainment Vice Chairman Jim Morris said city leaders eventually caught on.
"The more you got to know him and the more you watched him do the job, the more confidence people had in him and that this was going to be OK," Morris said. "He clearly is the antithesis of a big shot. There's nothing presumptuous or arrogant about him."
A list of achievements
Ballard's first term was marked by a few big deals that involved selling and leasing some of the city's largest assets. First came the transfer of the city's water and sewer systems to Citizens Energy, which netted the city more than $425 million that Ballard devoted to funding local infrastructure improvements.
The mayor also leased the management of parking meters to the private group ParkIndy, which the city projects will net Indianapolis $363 million over the life of the 50-year contract.
"If anyone thinks that cities are going to be able to provide all the services they want without assistance from the private sector, they're dreaming," Ballard said. "They're absolutely dreaming." Ballard celebrates the 240th birthday of the U.S. Marine Corps in November. (IBJ file photo)
Ballard led the first successful renegotiation with the U.S. Environmental Protection Agency on its consent decree for combined sewer overflow, which he estimates saved the city $740 million and quickly reduced the amount of raw sewage in waterways.
"We kind of stared down the EPA," Ballard said.
He was lauded for this in the national media, but not so much from local reporters. Now Ballard laughs, "It was the biggest savings for ratepayers in the city. Nobody cared. It was hilarious."
Republican City-County Councilor Jeff Miller said the consent decree renegotiation was "a huge deal."
Ballard's leadership and priorities also changed the look and livability of downtown.
Only a half mile of the Indianapolis Cultural Trail was built when Ballard became mayor, said Brian Payne, president of the Central Indiana Community Foundation. The city now has about 200 miles of bike lanes and trails.
"Ballard could have squashed the whole thing," Payne said. "A lot of his normal constituents were like, 'What are you doing?' But he believed in it, stayed true to it, and he showed how powerful bike infrastructure is to the livability of our city."
He also had a vision to transform cultural attractions. Stevi Stoesz, manager of the Indianapolis City Market downtown, said, when she took charge of the market in 2008, the situation was "pretty dire."
"When people travel to other cities or abroad, one of the first things they like to check out is the public market, the heart of the city," Stoesz said. In Ballard's travels, "he had visited public markets that are so vibrant and reflected the culture of the city. He looked across the street [from the City-County Building] and said, 'That's what our public market needs to be as well.'"
Ballard also shepherded the city through tough financial times during the Great Recession—and beyond. Despite modest increases in property tax and income tax revenue in recent years, the county is still receiving $63 million less in revenue this year than it did in 2008.
"For one or two years, I would have loved to have a big bump up [in revenue]," Ballard said.
Still, Indianapolis has been able to maintain its good credit rating.

Riggs
Troy Riggs, former public safety director who will join Hogsett's administration as police chief, said he gives Ballard a lot of credit for the way he dealt with those times, because other cities suffered worse fates.
"We obviously weren't able to hire police officers, but we didn't lay anyone off, either," Riggs said. "Indianapolis was spared from a lot of that."
But Zach Adamson, a Democrat who recently won back a seat on the City-County Council and has been one of Ballard's sharpest critics the last four years, sees the city's financial situation differently. He said Ballard "pillaged the entire city," pointing to the city's dwindling cash reserves.
Adamson
"The next guy that's coming in is going to figure out how to balance the budget to deliver the same city services without having that cushion of money to support him," Adamson said.
This year, Ballard became a major player in the statewide drama that played out when he spoke out against Republican Gov. Mike Pence's Religious Freedom Restoration Act. He said it sent the "wrong signal" about Indiana being a welcoming place.
Leonard Hoops, CEO of Visit Indy, said the tourism office occasionally asks Ballard to make calls to prospective visitors and clients—"He has an incredibly high close rate," Hoops said—but it was especially important during the fallout over the religious freedom act, which many said would allow discrimination against the gay and transgender community.
"In that week between when the RFRA was passed and when it got amended, we were trying to talk to a lot of customers who were concerned and threatening cancelation," Hoops said. "A couple of the biggest ones were getting antsy. The mayor said, 'I'll call these guys.' He made a lot of phone calls to buy us some time. When he calls, we usually win."
'Not what it could have been'
It wasn't always easy being mayor.
Ballard's critics found a fertile target when he spent $5.1 million to build a sports complex on the east side that he hoped would host a national cricket championship. But city leaders decided to break a three-year contract with the United States of America Cricket Association after a leadership change there that resulted in a communication problem between the city and the group.
"I got the hell beaten out of me," Ballard said, "but that got us an immense amount of national and international attention. We've had two world-class events there. One day people will get it. As long as they keep that up, great events will come here."
Ballard also was criticized for the way he handled public-private partnership deals. His critics said he was trying to bypass the City-County Council and avoid public scrutiny of the deals.
Ballard said he sees himself as "fairly collaborative," but he wasn't apologetic about his approach.
"The executive has to make the call," Ballard said. "Whenever I made a big decision, I never announced it immediately. I have a habit of waiting 24 to 48 hours to make sure my gut is right. You have to make the decision and then see yourself on the other side that decision."
But that approach didn't always close deals.
The City-County Council quashed his plan for a new justice center in April. And the council sued the city in June over the Vision Fleet cars and the city's contract with the California company. The sides later settled. The council also threatened to tow cars from the BlueIndy electric-car-sharing program.
Those controversies slowed down his second term, Miller said.
"You had good concepts like BlueIndy, like Vision Fleet, like the Justice Center that, to varying degrees, didn't have the impact or success of those things in the first term because there was too much bickering going on," Miller said. "It was not what it could have been."
Adamson said his main frustration with the mayor was his seeming unwillingness to work with the council.
"You can't have one guy making those decisions, especially when you're talking about these sums of money," Adamson said.
Council Minority Leader Mike McQuillen said he doesn't think the council spats will affect Ballard's long-term legacy.
"I think people should have expected exactly what they got," McQuillen said. "He wasn't the typical politician who was out there shaking hands and kissing babies and working the elected officials. It doesn't surprise me there were dust-ups occasionally."
Ballard said he feels good about his record and doesn't lose sleep at night over losing the Justice Center proposal.
"On a big scale, I think we tackled what we wanted to go tackle," he said. "We went after every one of them. It would have been nice to get that last thing done, but we went after it and now they know."
New generation
Above all, Ballard said he wants to be remembered for nurturing a new generation of city leaders. He said it was crucial to have strong, smart people around him.
"Sometimes it was uncomfortable," Ballard said. "I always had people around me who would tell me what I needed to hear, if you were about to go off the rails."
He pointed to three key former members of his administration—Chief of Staff Ryan Vaughn, Deputy Mayor for Economic Development Michael Huber and Deputy Mayor for Education Jason Kloth—as potential transformational city leaders.
"That's one of the best things we've done," Ballard said. "People talk about [former U.S. Sen. and Indianapolis Mayor Richard] Lugar's team still and who they were and what are they doing right now. I'm hoping people are starting to talk about my team in that regard, the quality of my team and what they've done."

Huber
Vaughn left Ballard's administration to become president of Indiana Sports Corp., a not-for-profit that tries to recruit big sporting events to the city. Kloth, who oversaw the city's charter schools and shepherded Ballard's preschool program through the City-County Council last year, left in June to run a workforce development effort to identify employers' skills gaps for the Central Indiana Corporate Partnership.
Huber, who left Ballard's office in 2012 and is now president of the Indy Chamber, said Ballard was interesting—and sometimes frustrating—to work for because he wasn't all that interested in the political ramifications of his decisions.
"We didn't always agree with him," Huber said. "My most significant memory of him will be this very sincere belief he has about public service and duty and how that translates into running a city."
But maybe Ballard's true legacy is unavoidable: Voters will remember that he got elected, seemingly against all odds, said Indiana War Memorials Director Stewart Goodwin.
"I don't know why anybody would want that job," Goodwin said. "Your life is not your own. The most important thing for most of us was that he wasn't a politician. He was a guy."•
Please enable JavaScript to view this content.