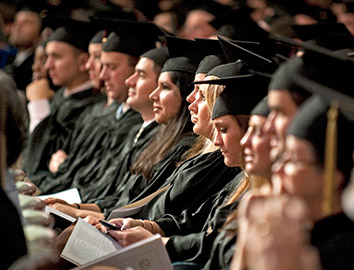 Indiana's colleges and universities want to get dropouts back to class.
More than 750,000 Indiana residents—or about 22 percent of the state's working-age adults—have attended some college but quit before completing their degrees.
They may have left because of work or financial problems or family obligations. The reasons are countless.
But now, state higher education officials are working with schools to make it easier for those Hoosiers to finish their degrees.
They're advocating that financial incentives, flexible schedules and other perks be made available to adults that need the help, with the hope of creating a stronger, more educated workforce and helping Hoosiers advance their lot in life.

Lubbers
"They're thinking about child care, shifts at work, and we need to make sure we've removed obstacles to them along the way," said Higher Education Commissioner Teresa Lubbers. "Our goal is to say, 'Yes, you left, but there are all kinds of reasons why you're a different person now and it could be a good time to come back.'"
The state has set an aggressive goal: Lubbers wants to see 200,000 of those adults earn degrees by 2020.
The higher ed commission's initiative is set to launch in early spring, targeting students via direct mail or other communications shortly after that. The commission is focused on reaching out to students who left school in the recent past and who already have completed at least a fourth of the credits needed for their degrees.
"In some cases, with just a handful of classes, they are able to find employment or advance in their position," said Ivy Tech Community College spokesman Jeff Fanter. "We know having that certificate or degree is only going to make them more competitive and make Indiana's overall workforce strong."
The effort is coming thanks to a push from the Legislature. The Return and Complete project was established by the General Assembly during the 2015 legislative session. The law requires Indiana colleges to conduct targeted outreach to students who have left their colleges or to work with the commission to reach out on their behalf.
The commission asked the Legislature for additional funding to aid the program but didn't receive it. It plans to ask for funding again in the 2017 session.
"I think we can show some success" by then, Lubbers said.
In the meantime, the commission is using a $7.5 million grant pool that had previously been used only to help part-time students. The commission is refocusing the grant to the larger adult population.
The help is important. The higher education commission estimates completing an additional year of college can cost Hoosiers nearly $50,000 in extra tuition costs, lost wages and other costs.
But the impact of doing so can be huge. According to a commission report, college graduates earn an average of $1 million more over their lifetimes than those without a degree. And college graduates experience half the risk of unemployment as those without a degree. A college degree, the commission says, "provides a passport to prosperity and opportunity."

McMillian
And the lack of a degree can also cause frustration that Jimmie McMillian, a partner at Barnes and Thornburg, knows well. He spoke in support of the commission's plan at a recent higher education conference. McMillian, originally from Chicago, attended Indiana University before dropping out because of poor grades.
But he was inspired to return and prosper when he realized how much his mother sacrificed for him. He graduated from IU in 1999 and later became a lawyer.
"I went to college to make everyone happy," McMillian said. "I didn't understand college was about getting a job and making yourself better. Then I got it and I had to figure out … how to get back. I got straight A's and B's my first year back."
The number of college graduates in Indiana also impacts the economy, which makes luring students back to school a statewide issue.
Fewer than 35 percent of the state's nearly 3.4 million working-age adults have earned a two- or four-year college degree, which is below the national average of 40 percent, according to the Lumina Foundation's analysis of U.S Census data. That affects the state's per capita income, tax revenue and standard of living.
Even students who earn degrees aren't doing it on time in many cases. The percentage of students who graduated on time from the state's four-year public colleges was about 36 percent for students who entered college in 2010. The situation is worse at the state's two-year community colleges; for students who entered a two-year college in 2012, the on-time completion rate is just under 6 percent.
To bolster the achievement of individuals and the state, the higher ed commission has asked universities to offer financial and academic incentives to adults who have left school.
The plan is to create an online portal where students can compare and contrast the various options from Indiana institutions, including financial incentives and whether they offer grade forgiveness, flexible schedules and other benefits.
For instance, some colleges are planning to offer limited-time tuition discounts or financial aid to returning adult students. Some will grant clemency for poor grades—called "grade forgiveness."
Ball State University is one of those colleges. It had already started to reach out to students through its "Back to Ball State" program, but will expand its targets based on the commission's goals, said Sam Snideman, the school's director of government relations.
"We don't want your grade from English 101 to be the thing that keeps you away," Snideman said. "If students have had trouble and have been away for a while, when they come back, we're offering the opportunity to wipe the slate clean from bad past academic performance."
Other times, seemingly small financial hurdles have deterred students from going back to school. None of Indiana's public colleges will release a student's transcripts if they have unpaid fines or other charges, according to the commission. ICHE recommends institutions stop that practice for students who owe less than $250.
Lubbers also encouraged the state's employers to get involved in the effort and "be positive if their employees want to come back" to school. She said offering incentives for employees to return to school and get their degrees would ultimately help the employee and the workforce.
"We think that's really important," she said. "We think it breeds loyalty to a company when employers do that."•
Please enable JavaScript to view this content.