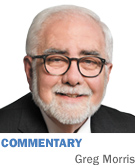 My hope is that you will allow me a bit of personal reflection this week, as I'm reaching three milestones in the next few days. I turn 60 years old, celebrate my 38th anniversary of being married to the same wonderful woman, and mark my 25-year anniversary at IBJ. There's no doubt ... I'm a very lucky person.

Sometimes, as people age, they wish they could go back to a younger time in their life. Not me. I've always been of the opinion that each decade has been better than the one before it. But I also know there will be a point of diminishing returns someday. I'm hopeful that, for me, that day is down the road several years.

As I look back, I distinctly remember my 20s. I definitely would not want to go back to that time in my life, when I had no clue what life was all about. I had three young kids and a starter job that didn't pay much money. The daily stress level was always high, and everything was a struggle. This was definitely a tough decade.

My 30s were better professionally and financially, especially the second half of that decade. I finally snagged a clue as to the amount of hard work required to be successful. I got my first opportunity at management at age 33. Things were finally starting to take off and fall into place.

However, it wasn't all good news. At age 35, and about six months after starting my career at IBJ, I lost my father to a long illness at the too-early age of 58. While tragic, that traumatic experience probably shaped my life more than anything else. Your perspective about life changes forever when you witness a loved one die slowly and suffer greatly with no chance of a better quality of life.

I realize I can't know everything about things to come. But I know this: When it's my time, I will not die like that. Nor will anyone I love. It's way past time Indiana lawmakers get off the sidelines and put proper laws in place addressing right-to-die and assisted-suicide issues. We baby boomers are used to having our way during our lives, and we expect that same level of control at life's end.

In any case, after my father's death, it finally sunk in that I could only depend on myself —and that a lot of other people were depending on me, too. It was time to get serious about life. I learned to treat every day as precious and understand that life on this earth can be short. So, it was at this critical time I kicked it into high gear, and I haven't looked back. As a result of my increased focus and effort, which creates a greater chance for luck, life just kept getting better. My 40s were great and my 50s have been better yet.

I will admit that turning 60 has caught my attention like no other age milestone. There's just something about 60 that sounds a lot older to me. But I don't feel old. Isn't this the time to think about retirement? What's that? Retirement isn't even remotely on my radar. I feel good. I've got plenty of energy. We're hitting some pretty impressive milestones here at IBJ. Actually, I feel more engaged than in a long while.

Of course, older people tell me I'm still young. But I don't have a lot of younger people say that to me. I'm sure they're thinking it's time for me to retreat to Florida and start going to dinner at 4:30 p.m. to take advantage of the blue-plate special. Getting us "old farts" out of the way will create greater opportunity for them to move up the ranks more quickly. Sorry, kids. That's not in the cards for the foreseeable future.

So, please don't trade me, Coach. I've got plenty of gas left in the tank. I promise to continue to outwork those young entitlement babies who are trying to turn your head. No, it's not time to kick me to the curb.

Right now, I'm singing along with Frank—"The best is yet to come!" Someday, it will be time to break into a rousing rendition of, "I did it my way" as I exit. But not yet. Here's wishing everyone the feeling of being "young at heart," no matter what age you are.•

__________

Morris is publisher of IBJ. His column appears every other week. To comment on this column, send email to gmorris@ibj.com.