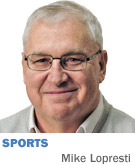 Nice of the NFL to throw such a swell party for Peyton Manning's probable last bow. By the way, there'll be a football game next Sunday, too.

So to mark Super Bowl 50, and the likely curtain on a legendary career made mostly in Indiana, here are 50 things to remember about Manning.

1. He's the only No. 18 to ever start as a Super Bowl quarterback.

2. The only reason he has that number is his brother Cooper wore it.

3. His last pass in Lucas Oil Stadium was an interception. His last pass as a Colt was an incompletion. He lost both games.

4. He went 39-6 in college, three of the six defeats to the same coach: Florida's Steve Spurrier

5. It took him five tries to win an NFL start, and six years to win a postseason game.

6. In his first season in Indianapolis, the Colts blew double-digit leads five times.

7. When he threw his first professional pass, the quarterback he'll face in the Super Bowl—Cam Newton—was 9 years old.

8. As a Colt, know what team he owned? The Denver Broncos. He was 8-2 against them. One of the defeats was a meaningless late-season game when he played only one series.

9. The only defensive player in the two-platoon era to win the Heisman Trophy is Charles Woodson. He beat Manning by 272 points in the voting. Woodson is retiring this year, so the Nos. 1-2 in the 1997 Heisman race might go out together.

10. If Manning wins, he'll be one of 12 quarterbacks to be multiple Super Bowl champions. The same number of men walked on the moon.

11. If he loses, he'll join only three other quarterbacks to lose at least three Super Bowls. One is his boss, John Elway.

12. He has thrown three touchdowns and four interceptions in three Super Bowls. The gold standard is Joe Montana, throwing 11 and none.

13. His last Colts completion was to Blair White. You do remember Blair White, right?

14. He earned his college degree in three years.

15. When Manning played in his first Super Bowl, TV commercials went for $2.6 million for 30 seconds. This year, it's $5 million.

16. He gave the Colts franchise a second Super Bowl title 36 years after the first one. That remains the largest time gap in history.

17. At 39, he is older than two men were when they coached Super Bowl champions: Mike Tomlin and Jon Gruden.

18. He and Eli are one of 25 sets of brothers to reach the Super Bowl.

19. His postseason record is 13-13. The Super Bowl will likely decide if he is forever to be above or below .500.

20. Forty-eight men have won Super Bowls for two different franchises. He would be the first starting quarterback to do it.

21. It's 1969 at Ole Miss. The Homecoming queen is the future Olivia Manning. Peyton knows her as Mom.

22. His NFL record is a little better than his father's, which was 35-101-3.

23. He is one of six No. 1 draft-pick quarterbacks to win the Super Bowl MVP.

24. It took him 14 years to miss a start in the NFL.

25. The last man to start a game at quarterback for the Colts before Manning was Jim Harbaugh.

26. Manning invested in 21 Papa John's in Colorado in 2012, and was quoted as saying the legalization of marijuana in the state had been a boon for the pizza business.

27. Wonder if his pregame meal is the same as the legendary two pieces of grilled chicken, bowl of pasta with marinara sauce, plain baked potato and broccoli?

28. The quarterback whose injury opened the spot for Manning at Tennessee was Todd Helton, who was later named to five National League All-Star teams.

29. No. 18, worn by the Manning boys, is the only retired jersey number at Isidore Newman School in New Orleans. They're thinking of adding the No. 3 of Odell Beckham Jr.

30. Four Super Bowls for Manning, four different head coaches. Tom Brady has had one for all six.

31. He was born on March 24. So were Harry Houdini, Steve McQueen and Clyde Barrow of Bonnie and Clyde.

32. The 266th regular-season game he played in as a pro was the first time he came off the bench as a reserve.

33. He and Brett Favre are the only quarterbacks to beat all 32 current franchises.

34. In 2001, he ran a 33-yard touchdown for Indianapolis against Buffalo. Hard to imagine what the Bills defenders were doing all that time.

35. The NFL team he owns the fewest touchdown passes against—five—is the opponent he is about to play, Carolina. He has eight against the Colts.

36. He has only one reception, in 2002. Gained minus-2 yards.

37. His touchdown-interception ratio this season was a ghastly 9-17.

38. He is the all-time leader with 539 touchdown passes. That's 111 more than Brady, 266 more than Joe Montana, 327 more than Terry Bradshaw, 366 more than Joe Namath, and 414 more than his father.

39. Four seasons in Denver, four division titles. Say thanks to the folks on West 56th Street, Broncos.

40. His last Super Bowl was a train wreck. A 43-8 loss to Seattle, when the Seahawks scored on a safety 12 seconds into the game.

41. Yes, he and the Colts did have a 10-0 lead against New Orleans. That matches the biggest lead lost in Super Bowl history.

42. In football's Ali vs. Frazier, he is 6-11 against Brady.

43. Yeah, but he's 3-1 their last four AFC championship games.

44. He's 1-3 vs. Andrew Luck.

45. The Panthers franchise has been in the NFL only three years longer than Manning.

46. You know he's getting close to the end when he brings his 4-year-old son to the post-game podium.

47. We still don't know how many millions it took to make it Peyton Manning Children's Hospital. But as Archie Manning said, it was his son's "greatest moment."

48. In Manning's 13 active years with the Colts, only eight Indianapolis touchdowns were thrown by someone else.

49. John Elway promptly retired after winning his second Super Bowl. Just a thought.

50. Simple question, as he leaves the stage. Would the Colts still be in Indianapolis without him?•

__________

Lopresti is a lifelong resident of Richmond and a graduate of Ball State University. He was a columnist for USA Today and Gannett newspapers for 31 years; he covered 34 Final Fours, 30 Super Bowls, 32 World Series and 16 Olympics. His column appears weekly. He can be reached at mlopresti@ibj.com.