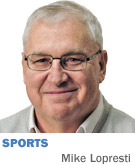 Been a little tricky keeping track of the Pacers, hasn't it?

Their starting lineup was smaller, and now it's not. It's smash mouth. Frank Vogel's words.

They were rolling, and now it's been a struggle, in the general vicinity of eighth place.

The shooting percentage looked as if it had just come out of a microwave oven. Now, not so much.

Paul George was an unstoppable hurricane-force wind. Now he's often downgraded to a tropical depression–not getting the ball as often as he'd like, either.

George Hill had blonde hair, and now he doesn't.

Myles Turner was an injured rookie, and now he's in the starting lineup, blocking LeBron James' would-be dunk. The hottest new face in town since Andrew Luck.

The tight finishes were falling their way. Now, execution in close games has turned into exploding cigars. Never good news when you lead the league in one-possession losses. Two days after the Pacers finally won an overtime game on their fifth try, Vogel offered aloud, "Hopefully, it's a breakthrough." Three hours later, Indiana lost to Cleveland. In overtime.

The Pacers looked like a playoff lock, and now we'll have to wait and see. Or, as Larry Bird mentioned the other day to Pacers.com, "We've got to find out who we are and what we're trying to do here. ... I will say we're underachieving."

That last sentence can be bad for the standings, bad for business, and bad for a coach's longevity. The final months will have to sort all this out. Here's a road map.

Feb. 8. Kobe Bryant's last Indianapolis stop with the moribund Los Angeles Lakers. Time flies. It was nearly 16 years ago he had his coming-of-age moment in what we called Conseco Fieldhouse: the overtime heroics of Game 4 of the 2000 NBA Finals, on a bad ankle at the age of 21. Now it's Bankers Life, and at last count, the Philadelphia 76ers were barely holding off the Lakers for the league's worst record. This will be the first of only eight games left with the Western Conference, against which Indiana is 9-13. The Pacers can't lose.

Feb. 10. Charlotte is here for the first of three Pacers-Hornets meetings in 24 days. Since Charlotte is a team looming large in the Indiana rearview mirror, it could be a telling interlude. "You're pushing somebody down when you win," Vogel said of facing fellow playoff contenders. "And they're pushing you down when they get a win."

Feb. 19. Indiana comes out of the All-Star break with a trip to Oklahoma City, and the league's most potent offense this side of Golden State. "We're going to be a great defensive team down the stretch," Vogel said the other day. This will be one of those games when we find out if he was blowing industrial-strength smoke. That came out when he was discussing going back to the bigger lineup, with more beef protecting the rim. "They're butt kickers," he said. "We tried small ball and it didn't work." So there, Larry.

Feb. 24. The New York Knicks visit,and the Pacers will be wearing their "Hoosiers" uniforms. Uh-oh. Bad karma. They've lost four in a row as the Hickory Huskers.

Feb. 29. At Cleveland. By then, LeBron will be pretty sick of seeing replays of Turner stuffing him. This opens a four-game trip. No time to go road-wobbly.

March 7. San Antonio comes to town. Perhaps you've noticed Indiana has had a bit of trouble with the Spurs. The Pacers are 1-15 in their last 16 meetings. It is always good to remember that the gruff guy with all the rings—Gregg Popovich—is an Indiana native son.

March 15. This could be put-up-or-shut-up time. The date with Boston opens a five-game home stand and a stretch of 11 home games in the final 16. Good time to clinch that NBA longest streak of 27 consecutive winning seasons at home.

March 31. Orlando begins a scintillating week in downtown Indianapolis. Two days later, the Pittsburgh Pirates and Cincinnati Reds play an exhibition game in already-sold-out Victory Field. The day after that, the women's Final Four opens. The day after that ends, Cleveland will be back in Bankers Life Fieldhouse, when—presumably—George will not go 3-for-15 again.

One sure way to lose close games in the NBA: When The Man is not producing like The Man. Then again, the Pacers offense does not always go through George now. "Of course, I pride myself on being a go-to guy and the leader of this team. So it's bothering me a little bit. But, again, at the end of the day, I'm all in on this team."

April 12. Last home game, against the Knicks. By then, per Bird's request, maybe the Pacers will know who they are. Maybe, Vogel's vow—"This is all going to come together" —will have been confirmed, and defense will have saved the day.

Or not.•

__________

Lopresti is a lifelong resident of Richmond and a graduate of Ball State University. He was a columnist for USA Today and Gannett newspapers for 31 years. His column appears weekly. He can be reached at mlopresti@ibj.com.