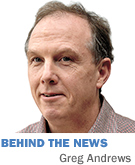 The irrepressible, 38-year-old entrepreneur Sardar Biglari would seem to have little in common with Sam Walton. But, in fact, they share a core philosophy.
In a December 2013 note to shareholders of Biglari Holdings Inc., Biglari wrote, "We are subscribing to Sam Walton's philosophy in which he stated, 'By cutting your price, you can boost your sales to a point where you can earn far more at the cheaper retail price than you would have by selling the item at the higher price.'"

Biglari
Indeed, while Biglari is a controversial figure—in large part because of questionable governance practices that give him outsized control over publicly traded Biglari Holdings—he has applied the Walton way at his most important business, Indianapolis-based Steak n Shake, with remarkable success.
The burger chain in November announced that it recorded a 3 percent increase in same-store sales in the third quarter. It was the 27th quarter in a row in which same-store sales rose compared with the same period a year earlier—a stunning run of success in the topsy-turvy world of restaurants.
And now, Steak n Shake is upping the ante, promising in a late January press release to freeze prices through all of 2016.
"Steak n Shake has an extremely strong value proposition that resonates with customers," Bigari, who does not grant interviews to the press, said in the news release announcing the move.
The gambit may help the 555-location chain stand out as value pricing proliferates across the restaurant world. The latest entrant is Wendy's, which in October rolled out a $4 meal that includes a junior bacon cheeseburger, four-piece chicken nuggets, fries and a drink.
Steak n Shake was one of the pioneers in the value-meal game, launching its four-meals-for-under-$4 menu in late 2008, a short time after Biglari gained control of the then-sputtering chain. The pricing allows diners to pay less for a sit-down, table-service meal than they would at many order-at-the-counter fast-food eateries.
Food prices have swung up and down since, but Biglari hasn't flinched. In a letter to shareholders in November 2014, he said company-owned stores absorbed a $19 million increase in beef prices from 2009 to 2014 without raising prices on core menu items.
"To remain successful," he wrote, "we must persist within a culture of thrift, squeezing out expenses and applying methods to lower our cost structure. … Naturally, cutting expenses is like cutting grass, a never-ending task."
At Biglari Holdings' annual meeting in New York City last spring, Biglari said other restaurateurs fail to appreciate the extent of diners' sensitivity to prices.
"Most of the industry does not want to admit there is causality between price and traffic," Biglari said.
Some of Steak n Shake's franchisees, which own about one-quarter of the chain's outposts, aren't as gung-ho as Biglari about discounting.
They filed a blitz of lawsuits in 2013 challenging the chain's authority to set menu pricing. The parties settled, with terms not disclosed.
"Steak n Shake's royalties are calculated as a percentage of a franchisee's revenue, not profits, which explains why Steak n Shake wants to increase customer volume through the sale of lower-priced food without concern as to whether franchisees actually make a reasonable profit," the franchisees argued in their lawsuits.
Steak n Shake contended in court filings that it has no incentive to force an unprofitable business model on restaurants, since it wants to expand its franchisee network. The chain maintains that well-run franchisees have abundant opportunities to prosper.
Holding the line on pricing actually has been easier for Steak n Shake lately because of easing commodity pricing.
But the laws of inflation suggest that, eventually, Steak n Shake—which is so committed to its $4 meals that it touts the pricing in permanent signage—is going to have to raise prices.
Subway's experience suggests the transition could be painful.
The chain launched its successful $5 foot-long campaign in 2008 but pulled back after food costs rose. Now it's back in the value game, but the foot-longs cost $6—a price hike that's spawned an angry backlash on social media.
One tweeter wrote, "Sorry I will never pay six bucks for a foot long!! I'll eat somewhere else!"•
Please enable JavaScript to view this content.