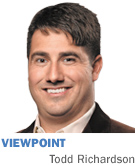 Finally, it seems business leaders around here have recognized culture for the business priority it is. That's great, but there's one problem: Recognizing its importance isn't enough. Indiana businesses must stop talking about culture and actually get a handle on it—or lose out on the up-and-coming workers they covet.
Why? Because culture sends ripples in every direction. Consider these stats from various sources: Eighty-seven percent of organizations cite culture as a top challenge … employee engagement programs can increase profits $2,400 per employee … half of all workers would rather "watch paint dry" or take a "trip to the DMV" than sit in another status-update meeting. That all has to do with culture.
If you're leading a business, figure out culture or get left in the dust. To that end, I propose the following Culture Commandments—a manifesto, if you will, to get leaders to quit talking about culture and start shaping it.
• Cultures are not static.
Cultures are dynamic because people are dynamic. Zappos CEO Tony Hsieh gives an example from his previous company, LinkExchange. When the firm ran out of like-minded friends to hire, it hired other people en masse, trading culture for competence. Soon enough, LinkExchange lost its mojo. The point? When you're creating and nurturing culture, you're never done.
Cultures also are dynamic because they draw from other cultures. Inhabitants of one company see appealing behaviors in another company and incorporate them. Then—voila—dynamic culture. The good news: If you're cognizant of this process, you can decide what to incorporate and what to reject.
The problem? Business leaders accustomed to control try to hold onto a good culture forever. It won't work.
• Culture is not HR's problem.
I'm going to jump out the window if I hear another person say, "Our culture sucks because HR is not getting it right." If you're in HR or executive leadership, it's not your job to single-handedly create culture. Get employees to define your culture's driving forces, and take time to make it collectively yours. Embrace a "let's all figure it out" attitude. Culture will emerge from that.
• Cultures are unique.
We share 99.9 percent of our genetic makeup with all other humans, but that 0.1 percent manifests itself in myriad ways. Cultures are the same way—for all they can have in common, each one is unique. At Kayak, that looks like every employee picking up the phone to handle service calls. At Edward Jones, that looks like firm-sponsored European trips for employees and their families. Different approaches, but both financially successful companies recognized as great places to work. You can't copy culture like you copy processes.
• Bonus commandment: Don't f*ck it up.
Airbnb CEO Brian Chesky once asked one of the firm's biggest investors for his most important piece of advice, and the investor replied, "Don't f*ck up the culture."
If more businesses paid attention to these culture commandments, we'd have a community of businesses that build, maintain and protect their most important asset … their culture. And if all area business leaders do this, we will develop a culture of success that redefines this city, region and state as a place where people want to work. If we don't? We'll fall behind the places that get it right.•
__________
Richardson, former executive vice president of administration at ExactTarget, is entrepreneur-in-residence at FirstPerson and chief people officer at Bluebridge LLC. He can be contacted at todd@bluebridgedigital.com.
Please enable JavaScript to view this content.