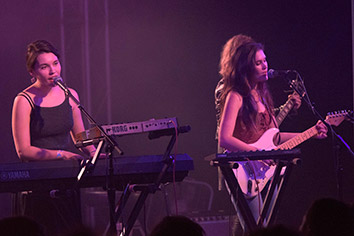 Madeleine Jurkiewicz, 21, graciously fields questions from teen guests in the narrow greenroom backstage at Deluxe, the basement concert space at Old National Centre in downtown Indianapolis.
While waiting for her younger sister to arrive, the elder half of up-and-coming act Lily & Madeleine accepts gushing ("That's so nice, thank you!") and talks science fair projects ("That's super cool!") with a group of kids and their chaperone, a colleague of her Bose McKinney & Evans-partner father.
Madeleine's got the empowering-the-nice-strangers thing down pat. And when Lily, 19 and slightly more reserved, arrives bearing stockings and makeup, the two have an easy rapport. They present as remarkably calm considering, just down the hall waits nearly everyone they know from hometown Indianapolis—plus many strangers who just love their music—eager to hear them harmonize.
Seeing them backstage, you might think Lily & Madeleine are preparing for a college talent night. But these sisters are launching a tour in support of their third album, one that could make the difference between a future as an indie niche act or a breakout success.
And it's clear they are in charge—not just of the music but of the business that comes with it.
Prelude
Bright as the models on the cover of a college brochure, Lily and Madeleine Jurkiewicz—either of whom could be mistaken for new "Star Wars" heroine Daisy Ridley—didn't set out to be music stars. They stumbled into the business when, in 2012, they posted a musical clip ("just for fun," says Madeleine) on YouTube.
It might have ended there … if their proud parents hadn't send it to a friend and if that friend hadn't forwarded the clip to Paul Mahern, a music producer who had worked with the likes of John Mellencamp, Iggy Pop, Willie Nelson and Neil Young. Mahern wasn't just impressed. He was knocked out.
"I watched it like five times in a row. The beauty of it was breathtaking," said the Bloomington-based Mahern. Not only did he want to produce the girls' music, he also wanted to help guide their careers. "Their talent was profound enough to make me jump into management."
Once a management agreement was in place, Mahern encouraged the pair to write their own songs. Recording the extended play disc "The Weight of the Globe" with Mahern led to a front-page appearance on the news aggregation website Reddit. That caught the attention of Asthmatic Kitty Records, which picked up the EP and the sisters' two subsequent full-length discs. They also scored an invitation to join Mellencamp's "Ghost Brothers of Darkland County" recording.
"That was a very interesting project," said Madeleine. "I know of him but was not super familiar with his music. He was super popular before we were born." Their parents were fans, though, and their father drove them one day after school to Mellencamp's studio. "We came up with the harmony part for those tracks in a few minutes," Madeleine said. "John was very mysterious but nice."
The duo has now migrated to New West Records, home to Steve Earle, Ben Folds and John Hiatt. Their new album, "Keep It Together," was released Feb. 27, a few days after they launched their latest video, "Hotel Pool." And while similar acts of an earlier generation might have coveted interviews in Tiger Beat, Lily & Madeleine were happy to be the subjects of a Reddit AMA (Ask Me Anything) Web chat. As in person, the responses to fans there seem remarkably genuine and honest. Sample from Lily: "It's crazy to see that some people can have such deep responses to what we create, because I still think of myself as not completely developed as an artist."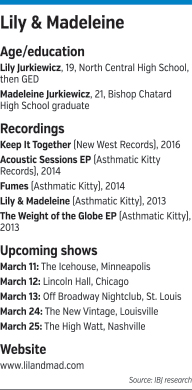 The reviews so far have been solid. "The harmonies from these Indiana-based sisters have always been outstanding," said NPR's Bob Boilen. "But now … Lily and Madeleine have added more texture to their songs." Paste Magazine used the words "dreamy pop" to describe the video for the single "For the Weak."
It's tough to pinpoint how such new media channels help sales, although they clearly assist in building and reinforcing a fan base. "There was a lot that I had to learn," admits Mahern. "Luckily, their being teenage girls, they had some idea of what those outlets were." When the online Rookie Mag reached out for a story, for instance, Mahern didn't realize it was important until Lily and Madeleine said, "That's amazing."
What's the goal for the new disc?
Ultimately, said Mahern, "If we sell 10,000 copies, it would be an acceptable success."
On the road
The Feb. 27 show in the Deluxe room launched a tour that currently lists 24 dates, with more on the way. Included are Joe's Pub in New York, the Troubadour in West Hollywood, and the South by Southwest festival in Austin.
"It used to be that all the money was made on record sales. The tour was where you lost money," Mahern said. "Now you have to get out and play if you are going to earn."
Mahern knows he isn't managing two malleable teens. He's in a partnership with a pair of artists growing into savvy businesswomen.
"We're definitely very hands-on," Lily said. "If we don't create the idea, we approve every idea that passes through."
In addition to the core chores of writing, recording and performing, the Jurkiewicz sisters take care of other tour logistics. "We have to figure out how much merchandise to pack, how to consolidate the instruments, how much gas mileage a van will get, do we stay in downtown Manhattan or get out after the show," Madeleine said.
"We've learned a ton running our own business and being artists at the same time," said Lily.
Wilson Zheng, booking agent for High Road Touring, said the pair's current tour is targeting venues of 200-500 seats. "It's important to get into the major markets around a record's release," he said. "They do well on the West Coast, in Boston, New York, Philly and D.C. And Minneapolis has come on really strong in the past year."
The act is looking to build on previous appearances, push harder in cities with supportive radio stations, and try to match the show to the right venue.
"We try to avoid Sundays and Mondays—fans don't want to pay money on those nights," Zheng said. And, he added, nobody in New York or L.A., where scouts for late-night talk shows are expected to attend, wants to work on the weekends. That means Tuesday to Thursday shows are best.
"Our main goal is to make sure the shows are as well attended as we can," Zheng said. "When the profile is increased, more doors are open for bigger slots and festivals." On the wish list: Seattle's Sasquatch Festival and the Newport Folk Festival.
The pair's act itself has evolved, not by a manager's edict but by the natural growth of the performers. More songs to choose from means more control over the set. The sisters have also been directly involved in finding musicians they want to work with. In the case of this tour, their opening act, cellist Shannon Hayden, also performs with them during their set, along with a drummer.
It's not just about the songs, though. An effective show has to find the right balance of music and banter.
"I actually talk less from stage now," said Lily. "I used to feel the need to introduce myself more. Now I realize they've bought tickets to see us. They know who we are. I don't have to explain my life story."
She's most nervous during shows in Indy. "I like playing where people don't know us. I'm more comfortable when I don't have to leave an impression with friends."
The nerves don't show on stage. When their set finally kicks off at Old National Centre, there's no attempt to come off as anything but two real women who love playing music and singing harmonies.
Their two-women-with-one-voice sound is pure, crisp and angelic without being cloying. Those rich, close harmonies can be lulling—often dancing near the edge of sleep-inducing—which create challenges in longer sets but are magical in small doses. Their songs, for the most part, make up in precision and beauty what they lack in life experience and a singular point of view. Listening to their music, there's never a doubt that these two are in this thing together.  
Career building
Still, the money isn't pouring in from concerts and recordings, Mahern said. Right now, licensing—the use of Lily & Madeleine songs in TV and movies—is the sisters' biggest source of revenue. Their songs have been heard on TV's "Parenthood" and on the soundtrack for the movie "Slow Learners."
"I think this music is tailor-made for movies and TV," said Tim Plumley, media director for their new label, New West Records.
Plumley has been impressed with the way the Jurkiewicz sisters have steered their career. "They came to us with the album cover," he said. "A lot of times, art directors mock something up, but they had the album cover done, they had the title done, they had the sequencing done. The album is very much what they want to put out there.
"What really impresses me is how they carry themselves," said Plumley. "How they conduct their business. And it's very much a business to them. They are OK with saying when they don't like something, if they aren't happy with how something is turning out."
"Honestly, I wasn't expecting all of the business stuff," admitted Madeleine. "When you consider being a rock star or artist, you think of writing and performing but there are so many more logistics to be considered. Having to split money between the booking agencies and management. Paying accompanying artists. Lily and I technically employ people, which is crazy because we are only 19 and 21."
While both took college classes in the fall semester—Lily at IU Bloomington and Madeleine at IUPUI—they've put school on hold for now.
"This is how we make money," said Lily. "It's easier to focus on one thing at a time."
Besides, she said, "We're not in school, so we don't have student loan debt to worry about."
Please enable JavaScript to view this content.