New Mayor Joe Hogsett said he chose his administration's cabinet members based on his belief they had the skills and drive to improve Indianapolis. But he said he also wanted to break down silos "because of my deep faith in their ability to work together."
We've already told you how the team came together and detailed how the group is organized in this chart. But we wanted to share more.
IBJ interviewed most members of the core administrative team—from deputy mayors to department directors and other key city leaders. Here is what stuck out from those conversations.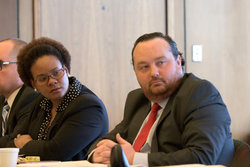 1.     The team is demographically diverse, but it's not a main topic of conversation.
Hogsett called the team the "most diverse" in the city's history. Eight people in key administrative positions are non-white. Twelve people, mostly department heads, are women.
"I don't think of it on a daily basis, but if that's yet another sign of who we are and where we're headed, that's a good thing," said Linda Broadfoot, director of Indy Parks.
2.     Hogsett has called tackling the city's approximately $50 million structural deficit priority "1A" of his administration—second only to reducing crime.
Sarah Riordan, executive director of the Indianapolis Bond Bank, who has been a lawyer in private practice and met the mayor through working on several political campaigns with him, said the challenge will be to "find solutions that will enable us to meet our obligations, not take on more debt than we need to and essentially create savings where we can." She called it "a big challenge but an exciting one."
3.     There's a wide range of former government experience on the team.
Some people have none, including Communications Director Taylor Schaffer. Others, including Legislative Director Camille Blunt, worked as a data entry clerk in the Center Township office. Lori Miser has extensive experience in government, including stints at the Indianapolis Metropolitan Planning Organization and the Department of Public Works, where she was director from 2012 to 2014 for Mayor Greg Ballard. Miser is continuing in that role for Hogsett.
Then there's a group with state government experience, including Department of Code Enforcement Director Jason Larrison, former state architect, and Controller Fady Qaddoura, who worked for both the Mitch Daniels and Mike Pence administrations.
4.     Briefing the mayor can be challenging, several staffers said.
"He is driving. He's forceful," said Tim Moriarty, special counsel to the mayor. "You better know what you're talking about when you go to brief the mayor. He will have the most incisive questions."
He said staffers consider it a good meeting if they escape having had only one question from the mayor they couldn't answer.
Moriarty said he knows he'd "better bone up on everything" before heading in to talk to Hogsett.
5.     Keeping the peace between developers and neighborhood groups—two groups sometimes at odds in discussions about downtown growth—is a goal of Emily Mack, new director of the Department of Metropolitan Development.
"It can be a daunting task at times, but I'm a firm believer that there's two sides to every story and that every problem has a solution," Mack said.
 "It's about bringing the parties together and making sure that everyone's viewpoints are heard and known and working together to find a solution that the neighborhood is hopefully excited about and they embrace," she said. "It's also about getting [neighborhoods] to embrace change, but ensuring that that development improves the quality of life for that neighborhood."
6.     The administration believes a "green space renaissance" is in order.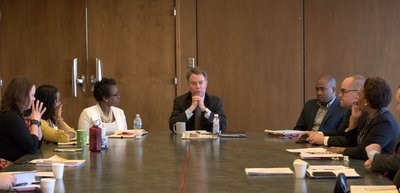 "We have come such a long way in so many other quality of life areas," Broadfoot said. "We have a lot of facilities that could use additional investment, and we need more people to attend events and programs."
She pointed out the city has 210 parks.
"My challenge to folks is to go to one or two you don't normally go to this summer," she said. "Experience them, see what their assets are, and see what their challenges are too."
7.     Hogsett has directed the Indianapolis Metropolitan Police Department to try to better take into account and address mental health challenges.
"When we talk about crime, it's an amalgamation of issues such as poverty, food insecurity, mental health and addictions," said David Hampton, the deputy mayor for neighborhoods. "Police aren't social workers, but we're adding humanitarian and compassion to public safety. We're not just incarcerating an individual who is really dealing with a mental illness."
8.     Several staffers have vivid first impressions of meetings with the mayor.
Andy Mallon, corporation counsel, said his came during Hogsett's 2004 run for Indiana Attorney General, at a young lawyers event.
"As he arrived, he pulled me aside and [said] something along the lines of 'You have about 20 seconds? What do I need to know about the folks in here?'" Mallon said.
"I wasn't staffing him or anything. I tried to come up with something smart and quick to give as an answer. Literally 20 seconds after he asked the question, he said 'Thanks for being here' and continued into the venue.
"I felt foolish at first—thinking I'd missed something or somehow fumbled a shot at being helpful. But then he used much of what I said in his remarks to the group. That made a great impression. Looking back, he likely knew exactly what he was going to say and to whom anyway, but I felt he really meant [saying] 'thanks for being here.'"
9.     They want to repeat the success of development and investment from areas like Fall Creek Place all over the city.
"The major projects of the last 15 years—Fall Creek Place, or the Super Bowl, or what's going on in the Near East Side—where you can truly see and measure return on investment, that should be how we do business every day and not just in a one-off project," said Jeff Bennett, deputy mayor for community development.
Please enable JavaScript to view this content.