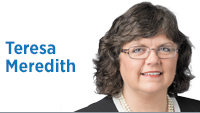 As policymakers and presidential candidates debate the severity of and solutions to mass incarceration in America, parents and educators are concerned about the school-to-prison pipeline. Decades of zero-tolerance policies, intended to keep kids and educators safe, are instead increasing the number of kids—mostly minorities—leaving school, and when left with few options, many end up in and out of the juvenile justice system.

"Every student deserves to learn—and every educator deserves to work—in a safe school," said NEA President Lily Eskelsen Garcia. And she's right. How do administrators and educators balance safety with appropriate supports and discipline, which doesn't cause lasting harm to a troubled student? Funding cuts have exacerbated the problem with fewer counselors, larger class sizes, cuts in programs, decreases in school safety officers and more.

Zero tolerance is necessary for violent and dangerous behavior, but these policies are often used for minor issues like breaking dress-code rules, marking on a desk, or running in the halls—all common problems teachers encounter each day.

The overreach of these policies disproportionally affects students of color and those with disabilities. African-American males have the highest school suspension rate at 20 percent, followed closely by Native American males at 13 percent and African-American females at 12 percent. Students with disabilities see suspension rates of 13 percent compared with 6 percent suspension rates for students without disabilities. Suspensions are a better predictor of whether a student finishes school or resorts to criminal activity than poverty.

A Council of State Governments study found when a student was suspended or expelled, his or her likelihood of entering the juvenile justice system increased significantly. However, some schools around the country have taken an alternative approach, with some success.

One example is positive behavior interventions and supports from the U.S. Department of Education. This program looks to create appropriate relational supports and change the school's culture. PBIS begins with strengthening relationships between staff and students. With a school-wide approach and training, schools have seen significant improvement.

Another example from Colorado is the Smart School Discipline Law, which saw expulsion rates and referrals to law enforcement drop 25 percent. However, glaring disparities persist in the program, as African-Americans are four times as likely to be referred to law enforcement as their white peers. More work needs to be done.

How do schools end the school-to-prison pipeline? It starts at the top. When school leadership demonstrates support for staff and students, a family atmosphere can develop. Low staff turnover leads to a stable community. A stable community means a culture of acceptance and support. When that kind of atmosphere exists, students feel safe. And feeling safe is essential to being able to make meaningful connections with adults.

Developing partnerships between community agencies and schools better communicates problems that arise outside of school, which might impact a kid's ability to concentrate or trigger acting out. Identifying agency support for students and families can be the first step to breaking the cycle of discipline to keep a kid in school and learning.

Broderick Johnson, chairman of The White House's My Brother's Keeper task force, explains, "It's about building strong, lasting bridges to opportunity for boys and girls, young men and young women, no matter what their background or the circumstances into which they were born."•

__________

Meredith is president of the Indiana State Teachers Association and has taught for more than 20 years in Indiana schools. Send comments on this column to ibjedit@ibj.com.