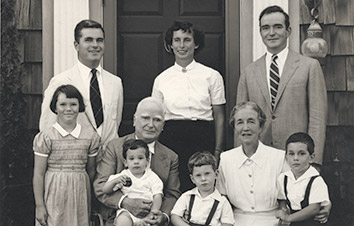 The Clowes name is well known throughout Indianapolis and central Indiana, but the story behind the family and how it came to be located here is not. That involves a chain of events that moves from England to Germany to New York to Washington to Indianapolis to Toronto and finally back to Indianapolis. And it hinges on one of the greatest innovations in biomedical science in the 20th century.
The key figure in the story is George Henry Alexander "Alec" Clowes (1877-1958), who was born in Ipswich, England, to a prosperous family of brewery suppliers. Clowes attended the Royal College of Science, then traveled to the University of Goettingen in Germany, where he received his doctorate in chemistry in 1899.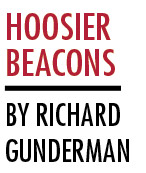 Clowes then moved to New York, where he studied the biology of tumors, followed by World War I service in Washington, D.C., studying the effects of gas warfare agents. About this time, Eli Lilly, the grandson of the founder of the drug company, became convinced that pharmaceutical research needed to adopt a more scientific basis, and he recommended that a scientist be appointed director of research.
In 1921, Lilly recruited Clowes to play this role. Upon his arrival in Indianapolis, Clowes began aggressively pursuing research that might lead to mass-produced pharmaceuticals. Acting on a tip, he took a train to a conference at Yale University, where University of Toronto researchers were scheduled to describe their discovery that pancreatic extract could be used to treat diabetes.
The researchers, William Banting and Charles Best, had isolated a hormone, later known as insulin, that could treat diabetes in dogs; there were early indications that it might do the same for humans. Patients who were routinely reduced to a nearly skeletal state before dying of the disease could, with daily injections, resume an apparently normal life.
The researchers would soon receive the Nobel Prize for their work, but couldn't devise a means of producing insulin in sufficient quantities for widespread medical use. Clowes made it his mission to develop a partnership between the University of Toronto and Eli Lilly and Co. to mass-produce the life-saving medicine.
Within a year, Lilly had obtained a license to produce insulin, and soon thereafter, a team of scientists and engineers at Lilly had developed a method for manufacturing large quantities of it. Cow and pig pancreases, formally regarded as offal, were soon being shipped by the railroad car full to Indianapolis, where 10,000 pounds of pancreases yielded one pound of insulin.
Over the ensuing decades, millions of lives around the world were saved by the discovery and commercialization of insulin, an achievement that also made Lilly and Alec Clowes substantial fortunes. Today, extracts from animal pancreases have been replaced by genetically engineered insulin, but it remains the mainstay of therapy for insulin-dependent diabetics.
Clowes, Lilly and Indianapolis played no role in the discovery of insulin. Yet it was largely Clowes' reputation as a scientist that persuaded the Toronto researchers to partner with Lilly to develop a means to mass-produce it, an innovation from which the city of Indianapolis and the state of Indiana continue to reap great rewards.•
__________
Hoosier Beacons pays tribute to Indiana's bicentennial by telling the stories of famous Hoosiers. It appears every other week. Gunderman is chancellor's professor at Indiana University.
Please enable JavaScript to view this content.