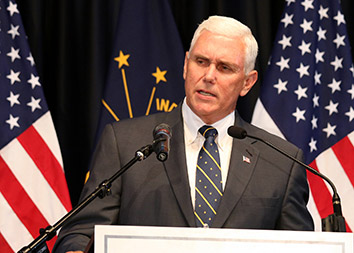 Roughly half the big-money donors who helped propel Republican Mike Pence into the Governor's Office in 2012 appear to be sitting out his re-election effort this year—or are at least waiting to see what happens in his battle with Democrat John Gregg before writing their checks.
The top 25 donors to Pence's 2012 campaign spent about $2.4 million overall to support him in his first matchup with Gregg, according to an IBJ analysis of campaign finance records from the Indiana Secretary of State's Office.
And at this point in the last election cycle, that group had given more than $1.5 million.
This time, those same donors have given less than $600,000 to Pence's campaign so far.
"I suspect it reflects a certain lukewarmness on the part of the local business community to him," said Les Lenkowsky, a professor of practice in public affairs and philanthropy at Indiana University's School of Public and Environmental Affairs.
Some of the names are no surprise. Pence knew he could kiss Bill Oesterle's $150,000 in campaign donations goodbye this time around. The former Angie's List CEO—one of the top individual donors to Pence's 2012 gubernatorial campaign—long ago revealed his disapproval of Pence's handling of gay rights issues.
But there are others, some frustrated with Pence for sprinkling conservative kindling on controversial social issues, igniting fights they see as a distraction and bad for business. A few have even contributed to Gregg instead.
Architect Daniel Moriarity gave Pence $25,000 back in 2012 but has given nothing to his re-election effort. Instead, he's given Gregg a small, $100 donation.
Moriarity, a principal at Studio M Architecture and Planning, said he initially supported Pence because "he seemed like a reasonable guy." But he became disillusioned after the governor signed the Religious Freedom Restoration Act in 2015. The measure aimed to give judges guidelines for protecting religious liberties in civil cases, but critics said it would essentially authorize discrimination against the LGBT community. Pence later signed a so-called fix that made neither side happy.
"I respected Mitch Daniels a lot and I liked his leadership style," Moriarity said. "I thought his focus on fiscal issues and de-emphasis on social issues was a smart way to operate, and I hoped for more of the same from Pence. I don't have any intention of supporting him again."

Downs
Moriarity is among roughly 60 people who gave Pence more than $20,000 during his 2012 campaign. Of those, only about half have contributed to his reelection effort.
Still, Election Day is more than six months away and there's plenty of time for donors to shell out the campaign cash Pence will need. In fact, Pence has a significant lead in the overall money race: $12.0 million in 2015 and 2016 compared with Gregg's $5.6 million during the same period. Pence is also attracting smaller, grass-roots conservative donors as a result of his actions on social issues.
"We are confident that a vast majority of major donors from 2012 who have not yet given will be supporting our campaign prior to the election," Campaign Manager Marty Obst told IBJ. "We are also pleased with the addition of a large number of new major donors, both in state and out, who have signed onto the campaign."
The Pence campaign also pointed out that several major donors to the governor's first campaign have since died.
In the first quarter of 2016, Gregg out-raised Pence, gathering $1.86 million in contributions to Pence's $1.53 million. And despite raising more than twice as much as Gregg overall, the incumbent Pence has only $2.5 million more cash on hand. 
Oesterle said Pence would be raising more if some members of the Republican business community had not decided to pull back. "If you don't have those dollars, that negates a huge advantage," Oesterle said. "Even if Gregg can't tap them, it just levels the playing field."
But Gregg has tapped a few. Among the most notable is philanthropist Christel DeHaan, who gave Pence $20,000 back in the 2012 cycle. This year, she's given Pence nothing and has given Gregg $200,000.
'Tough 18 months'

Ben Evans
Though defectors raise eyebrows, they actually tend to be few and far between, said Andy Downs, director of the Mike Downs Center for Indiana Politics at Indiana University-Purdue University Fort Wayne.
"What you are most likely to see is that people simply sit out or decrease their contributions tremendously," Downs said.
Oesterle, a lifelong Republican donor, said he isn't likely to give to Gregg, and that there are others like him.
"This makes it easy on a bunch of Republicans because they're just going to save a lot of money," he said. "It's hard to raise money if you give people reasons to not give. They will take it every day."
Big donors who jump ship from a campaign the second time around usually do so because of "some straw that broke the camel's back," Downs said.
To be sure, Pence's support for RFRA, his failure to back gay rights legislation, and his recent support of a controversial abortion law have alienated some moderate Republicans.
Others prefer a different kind of leader.
"When a CEO stumbles around on some highly visible issues, other CEOs wonder if he's up for the job," Lenkowsky said.
OurHealth CEO Ben Evans, whose company operates several health clinics in the Indianapolis area, hosted a fundraiser for Pence back in 2012 that he said raised "several thousand dollars." But this year, he's backing Gregg—a decision he made after reflecting on the type of leadership he thinks the state needs right now.
"Our state has had a tough 18 months," Evans said. "Strong leadership is critical to moving our state forward. I think it's making everyone give serious thought about how and if they participate in this election cycle."
Evans said he met with Gregg in March and decided then to contribute to his campaign. He so far has given Gregg about $2,500 and plans to contribute more.

"It's OK to be Republican and vote for John Gregg," Evans said.
'Strong record'
There are certainly deep-pocketed supporters whose financial support Pence can count on again this year.
Fred Klipsch, Pence's campaign treasurer and CEO of Klipsch Group, gave Pence $55,000 back in 2012 and has so far this cycle given him $35,000.
"I am confident that a vast majority of supporters from past years will be invested in this campaign," Klipsch said. "There is a great deal of enthusiasm among peer executives and voters in general who appreciate Gov. Pence's strong record on job growth, economic development and quality education."
John Popp, owner of Fort-Wayne based Perfection Bakeries Inc., which operates under the Aunt Millie's brand name, said he remains pretty confident Pence will be able to secure the fundraising needed to get his message out, despite the recent quarter in which Gregg raised more money.
Popp gave Pence nearly $16,000 in 2012 and has donated $5,000 so far this cycle. He said he doesn't feel any change in the way the campaign is reaching out to donors versus four years ago, and that he plans to give at the same level.
"Money is certainly crucial," Popp said. "There's only so much to go around. I think we need to keep the momentum going."
Waiting to spend?
But many big donors aren't so outspoken about their plans—which could be a signal they're watching to see how the race progresses before they give to either candidate.
"There may be folks who are waiting to hear what the candidates are going to say, or they're willing to move their money around," Downs said. "For those who give money because they want to back the winner, they can spend a little more time trying to find out who that winner will be."
Several of Pence's big 2012 donors were tight-lipped when contacted by IBJ about whether they planned to donate this cycle.
A spokesman for Forrest Lucas, who gave Pence $25,000 four years ago but has not given anything this cycle, said the Lucas Oil founder is "paying great attention to what's taking place in Indiana" but did not want to comment further.
Outgoing Indiana University Health CEO Daniel F. Evans gave Pence $20,000 during the 2012 cycle but has not given again. A spokeswoman said he would not comment.
And former Eli Lilly and Co. CEO Randall Tobias, who gave Pence $35,000 back in 2012 but has given him nothing this cycle, said through a spokeswoman that he would not comment, either.
However, Tobias, an Indiana University trustee, said in a recent interview with the Indiana Daily Student newspaper that he identified with Daniels.
The former governor "was fiscally conservative and at the same time believed social issues had no place in state government," Tobias told the IDS.
A question of leverage
What's unknown still is the influence people like DeHaan and Oesterle will have in the race—and how each campaign will play those actions up or off.
"Any time you're talking about folks who are able to contribute five figures, they are connected with others who can afford to do likewise," Downs said. "The question becomes how that is leveraged."
If DeHaan simply writes checks to Gregg but doesn't act as a surrogate for the campaign, "it's something Gregg can tout, but it's not as influential as if she was making calls, influencing other people."
DeHaan told IBJ she didn't want to be interviewed for this story because she does not comment on political issues. Still, Gregg's team could see DeHaan's move as a signal to be more aggressive in fundraising.
"They will be emboldened to go after money from people they may not have been willing to approach before," Downs said. "It might not be to give money to the Gregg campaign, but if you can stop people from giving to your opponent, that's OK, too."
Despite any defections, Lenkowsky said, Pence's team could benefit from grass-roots donors who are emboldened by his conservative stances on social issues.
The Pence campaign said it is on track to have nearly twice the number of small-dollar donors it had four years ago.
"We're talking about what the governor's lost by his stumbles, but we shouldn't overlook the possibly that he's gained something, too," Lenkowsky said. "If you can offset your losses with benefits, no harm done."•
Please enable JavaScript to view this content.