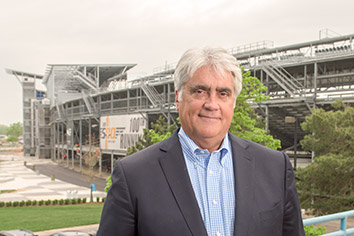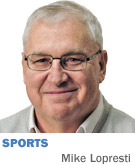 From Mark Miles' office window, a quiet Indianapolis Motor Speedway awaits its big moment. It is nearly May.
The man who oversees IndyCar racing, the Speedway—the whole ball of fuel-injected wax for Hulman & Co.—admits there are plenty of times he gazes out the window and imagines what it will be like May 29. What that day, with its 100th running of the Indianapolis 500, will mean to him, his city, his state.
"You just walk down Main Street of Speedway for lunch and somebody that I don't know will come up and tell you their story of the Speedway. It's such a constant reminder of how the history and the tradition of the place, how much it means to so many people.
"So that creates an emotion, which is a great sense of responsibility hoping that we get it right. There's a lot of anxiety that comes with it because there's so many things we feel like we can control that we've just got to nail, and then so many things you can't control.

Melangton
"My most recent story of the former is when Allison Melangton [senior vice president for events for Hulman] walked through that door and said, 'We need to talk about toilet paper.'"
Huh?
Yes, they are expecting the biggest crowd in decades, lured by today's marketing and yesterday's memories. Miles speaks of the "absolute conviction that the place is going to be sold out, and that there will be more than 100,000 more people here than there were last year."
That means having enough security, food, volunteers. "And eventually, you get to port-a-lets and toilet paper."
No, they wouldn't want to run out of either of those. So all the ducks are getting in a row, like race cars on the pace lap nearing the green flag. The 303-foot graphic featuring the Borg-Warner Trophy is up on the east side of the JW Marriott, as the Lombardi Trophy was for the Super Bowl and the NCAA Tournament bracket for the Final Four. The image of the Borg-Warner Trophy is tall enough to rank as the 12th-tallest building in Indiana.
Miles and Melangton were local leaders when the city hosted Super Bowl XLVI in 2012. Miles goes back to the 1987 Pan-American Games; Melangton headed Indiana Sports Corp. So they understand what that graphic signifies.
Miles: "It's kind of like the Lombardi. It's showtime. The lights are now on. My countdown clock was never about the 500; it was about the start of May, and then the 500. It's here. It's real."
Melangton: "This is the first one that I've been a part of, that the state owns this event. There's a lot of sentiment and history and heart that I haven't had with the others. I've loved all of them, but this one has some roots that are really important to our state."
Melangton mentions her first trip to the race 30 years ago, when she and friends dressed in checkered outfits and wandered into the Snake Pit in its more infamous days.
"Shocking to me," she says, "as a young girl from Maine."
As for Miles, "The basic story is, my dad was very tight. Rarely spent any money to go to any sporting events. So one of my first experiences was being jammed into a closed trunk, with other high school buddies, sneaking in the 16th Street tunnel.
"A dearer memory is, we had a family reunion. I can remember the deviled eggs, and we all listened to it on a transistor radio."
'No mean feat'
When he was running the men's ATP tennis tour, Miles would watch the race on Paris television from the French Open. Now the kid in the trunk is the man in charge. Assisted by the girl in the checkered pants.
"I want it to be epic and memorable," Melangton says. "There's not a lot of sporting events in the world that celebrate a hundred-year anniversary. I think you can count them on less than one hand that are in the same location 100 years in a row."
Miles took the Borg-Warner Trophy to New York and gaveled the end of a trading day on Wall Street on Feb. 19, 100 days before the race. Ryan Hunter-Reay, winner of the 2014 race, carried the trophy to the U.S. Capitol. The Speedway is sending people into all 92 Indiana counties to spread the word. Artists and poets have even been enlisted to contribute to the month.
"I'm going to guess a lot of those poets aren't die-hard race fans," Melangton says. "The only way you can get a community to celebrate an event and really own it and be emotionally attached to it is if you go outside the boundary of the hard-core sports fan. I feel like we're doing that."
Miles' objective for the 100th race is to "avoid the free fall that could otherwise follow for the 101st. That starts with making sure people that come this year and didn't come the year before have a great experience. We are importing a crowd that is the second-biggest city in the state on that day. It's no mean feat."
Harder than the Super Bowl?
"That was a lot easier. The NFL is substantial and they take care of a lot of it. It's just the enormous scale of this—it's unlike anything … and you can't have a bad day. It's one shot."
'A bit of a roll'
Not long ago, this grand-scaled month had clearly lost a step.
"My first year I sat at this desk on opening-day morning, and I think we sold 4,500 tickets. I was embarrassed," Miles says.
Events have been added—such as music throughout race weekend at the track—and tweaks made to relight the flame. The historic whiff of the 100th race should help. Miles talks of his dreams for the month.
"We're on a bit of a roll. The last three years have been up, both spectators here and on television. So we hope we can take a quantum leap forward and begin to sustain that. It's the place to be now, at least on race weekend. We'll have a hundred thousand people watching music Friday, Saturday and Sunday.
"Our slogan for it is Fast Forward. It isn't Drive, Looking in the Rearview Mirror. So we want to be very appreciative and respectful of the hundred years, but we absolutely want it to be a springboard for the future.
"It's an interesting thing. It requires a special alchemy that we're learning and experimenting with. In my personal experience, Wimbledon and the Masters are the masters of this. They are constantly reinvesting, and it's always cutting-edge, but it never feels like it. It always feels like Wimbledon and the precious traditions, and the same goes for Augusta. They keep the feeling, but they make it extraordinary. That's the direction we've got to go."
Nothing has been left to chance. Nothing. Well, except one thing.
"Eventually," Miles says, "it comes down to weather."
Same as it was for hosting a Super Bowl in Indiana in winter, but look how that turned out.
"Not to put too much pressure on her," Miles says of Melangton, "but she's a very religious person. She prays constantly. As far as I can tell, in our shared experience, nothing has ever been rained out. And it was warm in February of 2012."
May 29 is coming. You can sense it from the man sitting at the desk, with the Speedway outside his window. But what will Mark Miles be feeling May 30?
"Relief, I hope, with no big issues trailing it. And hopefully, the satisfaction that a lot of people thought it was special."•
__________
Lopresti is a lifelong resident of Richmond and a graduate of Ball State University. He was a columnist for USA Today and Gannett newspapers for 31 years; he covered 34 Final Fours, 30 Super Bowls, 32 World Series and 16 Olympics. His column appears weekly. He can be reached at mlopresti@ibj.com.
Please enable JavaScript to view this content.