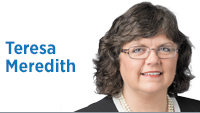 May 1-7 was National Teacher Appreciation Week, a time students, parents and community members can take a moment to share their appreciation for the special educators in their lives. It's a time we pause to thank the educators who have made a positive impact, inspired an interest in learning, or acted as a caring role model.

Although the week has passed, it's never too late to show your appreciation. After all, teachers should be recognized and honored for the work they do every day.

Consider these facts:

■ On average, teachers work more than 52 hours a week, which includes 30 hours on instruction and 22 hours on tasks like preparing lessons and grading papers.

■ Teachers have on average more than 20 students per class, with a new crop of students and challenges each year.

■ Teachers are trained, certified professionals, not unlike nurses or engineers. All have completed coursework in their teaching field and in education practice, and more than half (57 percent) hold master's degrees.

Every day, in schools across the country, teachers touch the lives of millions of children, and their impact extends far beyond the boundaries of the classroom. It's time we demonstrate respect and acknowledge the value of the work educators do every day.

What teacher made a difference in your life? I challenge you to go find that teacher and tell him or her how important he or she was to you. Your gratitude could remind a teacher of the rewards of the profession.

I encourage you to reach out to your local public school or parent teacher association to ask how you can help educators in need of resources for their classroom or workplace. According to the National Education Association, educators spend on average nearly $2,000 of their own money on classroom and work supplies—significant when the average national starting salary for a teacher is $30,377.

Perhaps the easiest way to support kids in their classrooms is to make a donation using DonorsChoose.org. Donors Choose is a crowd-funding resource educators can use to get what they need for their classrooms. According to the website, teachers at 70 percent of public schools in America have posted a project on their site with more than 2 million donors fulfilling their requests. In the Indianapolis area alone, more than 260 projects need funding.

Helping pay for books, electronics, classroom furniture and more helps educators who might otherwise have to spend their own money on classroom supplies and resources.

If making a financial contribution isn't an option, consider being a homework buddy or becoming a before- or after-school community program volunteer. Check to see if your employer could partner with a local public school to offer tutoring programs, mentorship programs or opportunities to read to and with students.

Our public school teachers and education support professionals do outstanding work every day. They perform daily miracles in their classrooms and school buildings, sometimes working under challenging environments.

We can improve our schools significantly through granting respect to our educators and showing how much we value their contributions. Appreciation for educators should not be limited to one week out of the year. We should continually look for ways to support educators and their students throughout the year.•

__________

Meredith is president of the Indiana State Teachers Association and has taught for more than 20 years in Indiana schools. Send comments on this column to ibjedit@ibj.com.