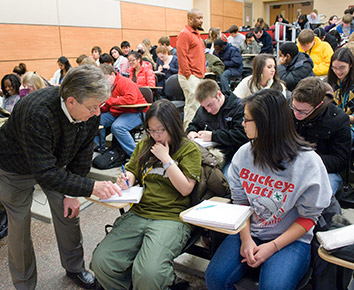 There's been no shortage of tactics deployed at Indiana public colleges recently to attack the problem of rising student debt—from years of tuition freezes at Purdue University to Indiana University's practice of sending letters to borrowers with sometimes jarring information about future monthly loan payments.
But has Indiana made any progress in tackling student debt since students started racking it up in higher quantities through the Great Recession?
The answer is somewhat complicated, higher education finance experts say. Indiana public university students overall are still facing higher debt burdens—but the share of students borrowing is on its way down.
Here's the bad news: The median federal debt of undergraduate borrowers who graduated from Indiana's public two- and four-year universities rose steadily from 2006 to 2013, according to the U.S. Department of Education, and doesn't show any signs of coming back down.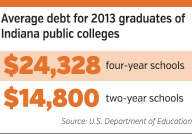 Indiana also ranks fourth in the country for student loan defaults, with 14.7 percent of borrowers in repayment defaulting within three years. The national rate is 11.8 percent.
But the good news is that the percentage of freshmen with debt at Indiana's public universities decreased slightly, from 48 percent in 2008-2009 to 46 percent in 2013-2014, according to the Integrated Postsecondary Education Data System.
And clearly, Indiana's higher education institutions have made college affordability a much higher priority than it used to be. That's apparent to higher education finance experts nationwide.

Kelchen
"Indiana is doing more than most states," said Seton Hall University professor Robert Kelchen, who teaches in the Department of Education Leadership, Management and Policy. And he said Indiana's student debt picture "seems broadly similar to the rest of the nation."
"Seeing what the two flagships—IU and Purdue—are doing is really interesting," Kelchen said. "IU is trying to really affect how much students are borrowing, and Purdue's taking a slightly different path trying to just limit tuition. They seem committed to doing this and giving time for the plans tofollow through."
But Kelchen said the fruits of those labors likely won't be known for years.
"It will take a while to see the debt go down," he said. "It's too early to draw full conclusions."
Freezes and letters
Higher education officials say the moves are already showing promise.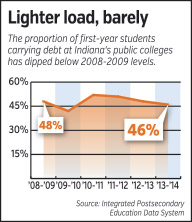 Lubbers
"This is not claiming victory at all," said Teresa Lubbers, the state's higher education commissioner. "It's a trend that's in the right direction."
Perhaps the most highly publicized step is Purdue University's tuition freeze, which the West Lafayette university has just extended a fifth time through the 2017-2018 year. Resident students will pay $10,002 each year—the same as they paid in 2012.
Purdue says it has saved students$134 million over the first three years of the freeze by not raising tuition by the average national rate each year.
The school is also launching an income-share agreement program next year that allows students to receive money for college upfront by committing to pay a fixed percentage of their income for a fixed number of years.
IU has seen success in decreasing undergraduate student borrowing—nearly 16 percent over two years as reported by the university in 2015. That's $44 million in savings.
The public, flagship university in Bloomington started sending out annual debt letters to all its borrowers in 2012—spelling out the future monthly payment of each student's specific loans.
All the state's public universities started the practice after IU inspired a 2015 law.
The result has been that "students and families are being more responsible in their borrowing," said Marvin Smith, director of student financial services at IUPUI.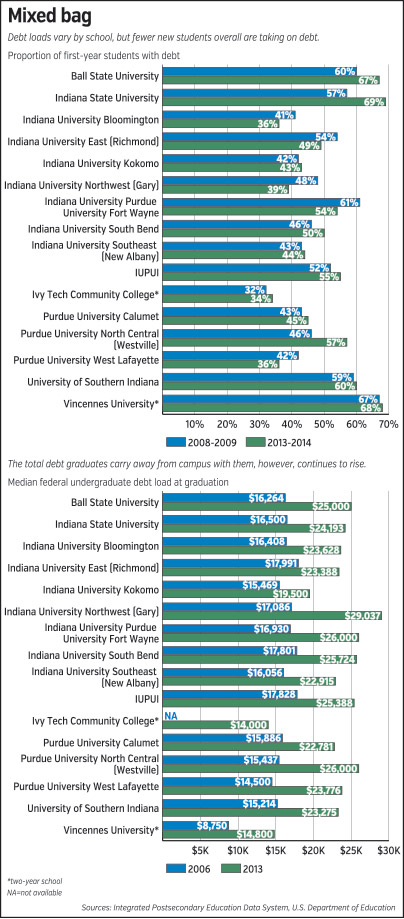 Colleges also hope a new focus on on-time graduation will help students graduate with less overall debt. Each extra year of school can cost students $50,000 in tuition, lost wages and other costs, according to the state.
The Indiana Commission for Higher Education says only about half of Indiana college students are taking enough credits per year to graduate on time, though about 75 percent of these students expect to. In 2013, the state started requiring scholarship recipients to take full schedules. Data released by the state two years later showed more scholarship recipients completing on time.
In addition, IUPUI and IU's other regional institutions are moving to "banded tuition" next year, meaning students will pay the same amount of tuition if they take 12 credits to 18 credits, like at most four-year schools.
To help students adjust, IUPUI is also on track to double to $8 million the amount of need-based student aid it offers and pair that with "student support programming."
"This is something we needed to do," Smith said, "because we did not compare favorably. If you pair money with support, you're going to be more successful than just throwing a grant at a student."
'A better situation'

Smith
Nationally, students are borrowing less in aggregate, but Kelchen said that might be because there are fewer college students than there were at the height of the recession.
But he said at least part of the reason is a slowly improving national economy.
Loans taken out by students andparents to pay for college amassed $106 billion in 2014-2015, a 6 percent drop from the previous year, according to the College Board. The peak was $124 billion borrowed in 2010-2011.
However, students who borrow are leaving college with a national average of $35,000 in federal and private debt. The Wall Street Journal declared the Class of 2015 as "the most indebted class ever, a title they'll hold exclusively for all of about 12 months if current trends hold."
While it could take some time to see meaningful progress in reducing student debt, some Indiana financial aid experts also worry about an overcorrection.

Horne
Students loans are not "evil," Smith said. He said he's worried that the "hysteria" of the student loan crisis might discourage students from borrowing at all—which could be potentially disastrous for students who otherwise couldn't afford to pay for college.
"I'm not a proponent of student debt, but I'm a proponent of students going to college," Smith said.
Purdue University's Pamela Horne, vice provost of enrollment management, stressed that college degrees are still a "heck of a good investment." But she said it's an investment to be made wisely.
For Indiana students who think Purdue is their dream school, "we can almost always make that possible," Horne said. But she said out-of-state students should strongly consider more affordable options in their home states before any of their relatives "cash in their retirements."
"I had a parent email me last week saying, 'If we borrow from Grandma and sell the car, we'll have enough for one year,'" Horne said. "I came so close to saying, 'Don't come.'"
And it's possible that the presidential election conversation about tuition-free or debt-free college might ignite similar policy debates in the Statehouse, Lubbers said.
Indiana policymakers have in the past tossed around the idea of making community college tuition-free, but it hasn't translated into action.
Lubbers said state scholarships are mostly able to take care of the students who demonstrate the most financial need, but the question now is whether states should extend that to middle-income or lower-middle-income students.
"When college costs become a major discussion in a presidential election, you know it's on people's minds," Lubbers said. "Everyone needs to look in the context of their own state. How could we help provide more predictability and affordability to middle-income families?"•
 
Please enable JavaScript to view this content.